If your USB drive is not appearing in This PC, but it is visible in the Disk Management panel in Windows 10, then this post will be able to help you fix the issue. Whether this problem occurs with a pen drive, external hard drive, or even a partition of your internal hard drive, the solution is the same.
Let's assume that you have connected a USB drive to your Windows 10 computer, but it is not appearing in This PC or File Explorer. That means you cannot access the files. It could occur when some settings are changed randomly, or after a malware attack. It can also appear after a Windows Upgrade.
USB drive not appearing in This PC
You need to assign a drive letter to your partition or USB drive to make it visible in This PC. For that, you can use the Disk Management option that is available in Disk Management. To fix USB drive is not appearing in This PC issue, follow these steps-
Open Computer Management
Go to Disk Management
Right-click on the USB drive
Select Change Drive Letter and Paths
Click Add button
Select a Drive letter.
First, make sure that the USB drive is plugged in. If so, you can open File Explorer, right-click on This PC option on your left sidebar and select Manage. Alternatively, you can search for Computer Management in the Taskbar search box and open the result.
Now, you need to go to Storage > Disk Management option.
Here you should find your USB drive, which is not appearing in This PC. You need to right-click on the USB drive and select Change Drive Letter and Paths option.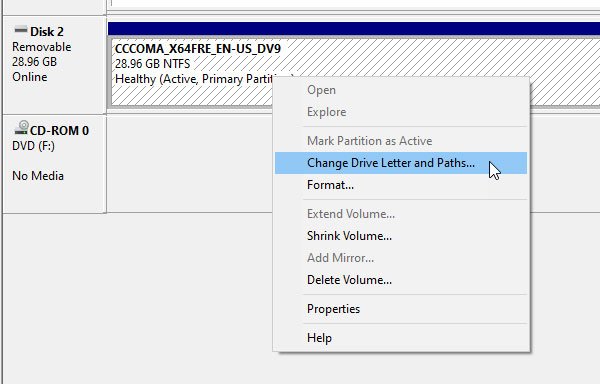 You will see the Add option. Click it and select a Drive letter from the drop-down menu. Click the OK button and exit.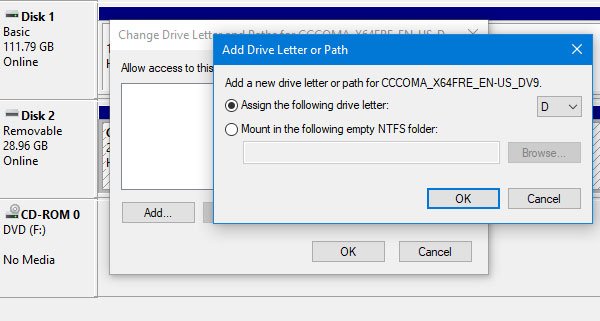 This should resolve the issue.
For your information, you can select any drive letter that is available in the drop-down list. After clicking the OK button, it should not take much time for your system to assign the Drive letter to the USB drive. Once the process is complete, you can find your USB drive in the This PC and access your files.
Similar read: External Hard Drive not showing up or detected in Windows 10.