Unreal Engine 4 is one of the most popular games of the current day and age. However, it is not completely free from errors. Users are complaining that the game is crashing on their PCs and here we are with the solutions. So, if Unreal Engine 4 keeps crashing or freezing on your computer then this article can help you resolve the issue.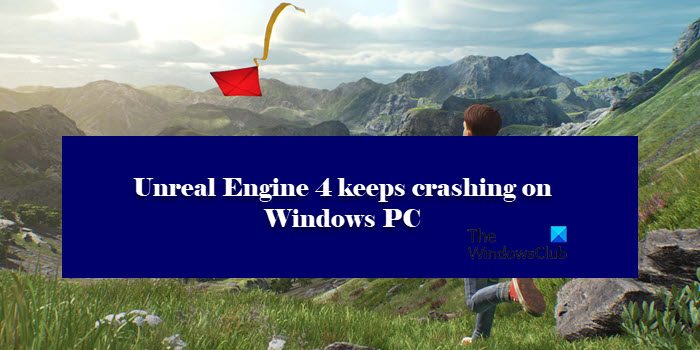 Why does my game keep crashing PC?
There are a lot of reasons that can make the game crash on your system. First of all, you should check the system requirements and make sure that your computer is meeting them. Other than that, you should also check whether all the components of your OS are up-to-date or not. However, the most important component is your Graphics Driver, if it's outdated or if it's not meeting the requirement, your game is entitled to crash.
One also needs to check and make sure that neither game nor the system files are corrupted. If they are, your game will crash every time that file is needed. In this article, we will be talking about more reasons and solutions to resolve the issue.
Unreal Engine 4 keeps crashing or freezing
If Unreal Engine 4 keeps crashing or freezing on your device, then start the troubleshooting by checking for your updates. You can take extra measures by making sure that your Windows is updated. It'll boost your performance and help fix the error. In this article, we have assembled simple fixes that you can follow.
Update Unreal Engine 4
Update your Graphics Driver
Stop Overclocking
Change your default Graphics card
Repair your system files
Change registry settings
Disable Antivirus temporarily
Reinstall Unreal Engine 4
Let's get to know them in detail.
1] Update Unreal Engine 4
Developers launch the latest patch every now and then. These patches deal with issues and try to solve them. You can update Unreal Engine 4 to get rid of the error. Follow the given steps to do the same.
Open Launcher, navigate to Unreal Engine 4 > Library.
Click on the Engine Version drop-down menu.
If there is a new update, install it.
Now relaunch the program to make sure that the issue is not plaguing Unreal Engine 4.
2] Update your Graphics Driver
Outdated Graphics Drivers cause crashing and launching issues. Therefore, it is recommended to always have an updated Graphics Driver along with updated Windows. If you have recently updated it then the problem is something else. But if you haven't done it in a while then update your Graphics Driver.
3] Stop Overclocking
CPU/GPU settings at the highest level can improve performance, and crash the program. You can simply switch the overclocking setting from highest to the default to make it work. It would be better if you set GPU setting at the lowest. After doing so, restart your device and launch Unreal Engine. Check if you are free of the issue or not.
4] Change your Default Graphics settings
Your integrated Graphics Card can also lead the game to crash. You can switch the graphics settings to default and then launch the program. You should also try to disable some features that you may have enabled, such as disabling the 3-D feature, changing the sound profile, etc.
Hopefully, you won't need any other fixes, but if it persists then see the next fix.
5] Repair your system files
Corrupted/Missing system files and Unreal Engine 4 do not cope well with each other. Repairing them seems the best and easiest option to tackle this issue. You can do the same by following the steps.
Click Win+R to open Run Dialog Box.
Type the following
cmd
Click Ctrl+Shift+Enter to open Command Prompt as an administrator.
Execute the following command
sfc /scannow
The procedure may take time as System File Checker will check for any corruption. It will automatically replace damaged files.
If that doesn't work, then try executing the following commands as well.
dism.exe /online /cleanup-image /scanhealth
dism.exe /online /cleanup-image /restorehealth
Now launch the system and check for any issues. If this fix wasn't helpful then try the next one.
6] Change your registry settings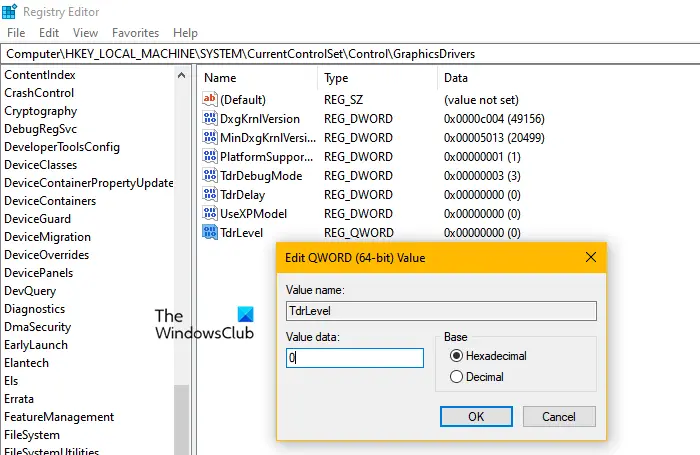 Changing your registry settings can also resolve crashing issues if the program is not opening because of TDR recovery level settings. Timeout Detection and Recovery is a tool that makes sure that Graphics Driver and device are working in harmony with each other.
Open Registry Editor. Click on the Files tab and then on Export. Save the backup at the location you want. And click on the Save button. Now, reopen Registry Editor and navigate to the following.
HKEY_LOCAL_MACHINE\SYSTEM\CurrentControlSet\Control\GraphicsDrivers
Now, see if can find TdrLevel. If you can find it, double-click on the value and set the Value data to O. However, if you can't find TdrLevel, follow the given steps to create one.
Right-click on the empty space and move to New.
Click on QWORD (64-bit) Value.
Set the new name as
TdrLevel
Double-click on it and set the Value data to 0.
Click Ok.
Restart your PC and now open the program again and see whether you can run it perfectly.
7] Disable Antivirus temporarily
Antivirus Software can make the game crash. It more often than not put important game files in the backlist. You can either allow the game through the firewall or you can temporarily disable the Antivirus software.
After disabling the Antivirus software, check for any issues in your program. Hopefully, there won't be any. But if it still continues then move to the next fix.
8] Reinstall Unreal Engine 4
If nothing works for you then you should uninstall the application and reinstall it again. As some times the program itself gets corrupted or outdated. Before uninstalling the program, make sure that you have a backup. And clear and set all the settings to their lowest, including registry settings. Now Uninstall and reinstall to see any issues.
Unreal Engine 4 system requirement
Following are the system requirements to play Unreal Engine 4.
Minimum
Operating System: Windows 7 64-bit
Processor: Quad-core Intel or AMD, 2.5 GHz or faster
RAM:8
Video Card/DirectX Version: DirectX 11 or DirectX 12 compatible graphics card
Recommended
Operating System: Windows 10 or later
Processor: Intel Core i7 4930K processor or equivalent
Graphics: Nvidia GTX 770 graphics card or equivalent
RAM: 32
Also Check: Genshin Impact not launching on Windows 11.