I am sure, you must have tried the Telegram app. The cloud-based instant messaging service has over 400 million active users and its servers are spread worldwide. The app works well on all the smartphones and tablets, But if you are looking for a client to run on your Windows 10 PC, then we recommend that you check out Unigram.
Unigram – Telegram client for Windows 10
Unigram is the unofficial Telegram client optimized for Windows 10. It can access Telegram on both, Desktops and on Xbox One. Besides, the unofficial Telegram client can create group chats for up to 200000 members. So, it's a perfect tool for hosting online communities and coordinating teamwork.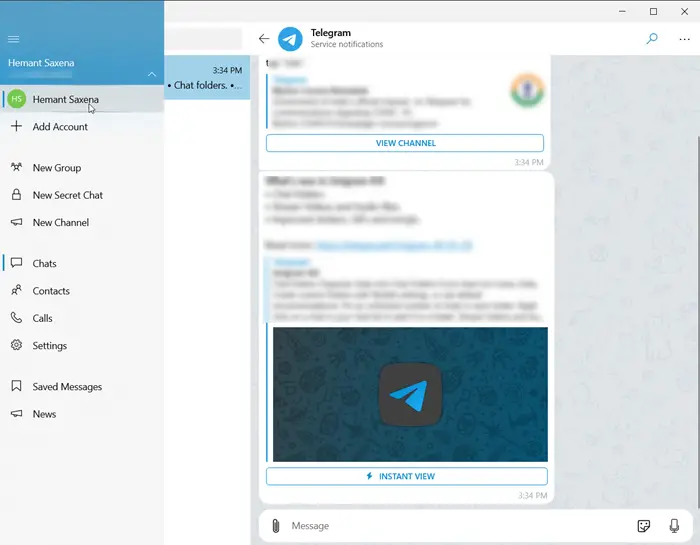 The app has received a major update. Its latest version for Windows 10 offers many new features including,
Chat folders
Stream Videos and audio files
Improved Stickers, GIFs and emojis
Improved files sender and media editor
Improved Storage Optimization
In addition to the above improvements, there's a whole bunch of bug fixes.
Read: How to use Telegram app.
1] Chat folders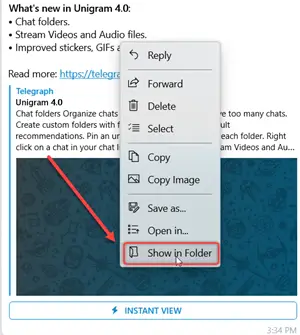 Unigram has made it easier to organize chats into Chat Folders. So, when you are bombarded with too many chats, you can organize them into separate folders. Simply create a custom folder with flexible settings or default recommendations. Then, right-click on a chat in your list and select 'show in folder'.
You can pin as many chats as you want. There's no limit to the number of chats you can add in each folder.
2] Stream Videos and audio files
One of the problems with popular chat apps like WhatsApp is that any audio or video file shared via it has to be downloaded first. Only then, these media files can be played. With Unigram this is no more a problem as it allows its users to play any videos and Audio files without having to download them.
3] Improved Stickers, GIFs and emojis
There's no other better way to express your emotions and feelings online but via stickers and GIFs. These stickers and GIFs have been improved a lot in Unigram 4.0 and now appear animated in the sticker panel and inline bots results.
Just scroll down to the 'Message' field and select GIF option there to find some quality GIFs covering the most popular emotions. You can click the 'Trending Tab' to check what's been the top reactions of the day.
4] Improved files sender and media editor
When you will switch your experience to Unigram 4.0, you'll notice there's a new file sender optimized for Desktop. Also, there's a New media editor to crop, rotate, flip images, and to draw on them. You can try the editor or simply switch to files sender to send your photos and videos as media, files, or albums. You can send uncompressed videos and GIFs too.
5] Storage Optimization screen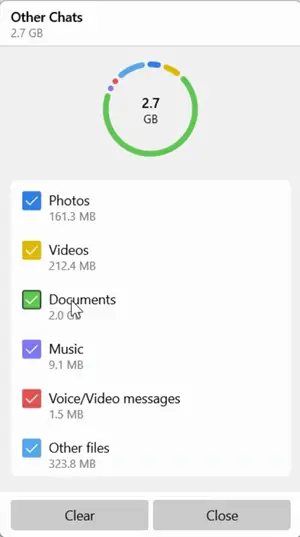 Lastly, Unigram 4.0 has a new Storage Optimization Screen interface that offers a more polished user experience. Get the app from Microsoft Store.
Now read: WhatsApp vs Telegram vs Signal vs Messenger.