When using a touchpad instead of a mouse, built-in gestures come in hand. So instead of holding and scrolling using the mouse, you can use two fingers together on the touch to scroll. But what if the gesture or the two-finger scroll is not working in Windows 11/10? This post looks at various solutions that can fix the problem of limiting the gesture.
Two-finger scroll not working in Windows 11/10
Follow these methods to fix the problem. Some of them will need an admin user account.
Check Touchpad Status
Enable Finger Scroll from Settings
Touchpad Compatibility
Update Touchpad Driver
Check with OEM Gesture App
That said, make sure that if you are using the gesture on any particular app, it is supported on it. If the app doesn't support it, it will not work.
1] Check Touchpad Status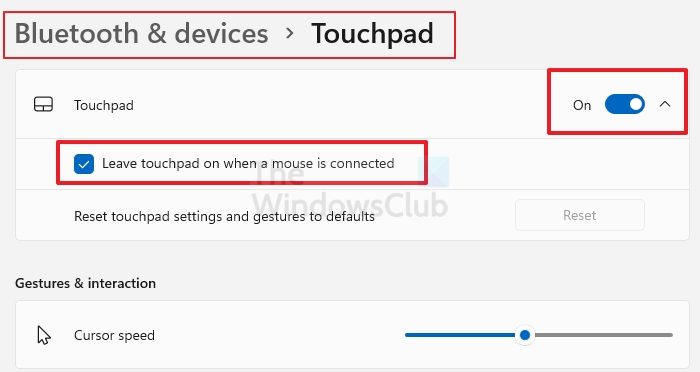 Windows settings in configured in such a way that when you connect a mouse, the touchpad can be disabled to avoid accidental responses. You can also disable the touchpad if you keep your laptop closed, but connect with external monitors.
Open Windows Settings (Win + I)
Navigate to Bluetooth & devices > Touchpad and click to open it
Make sure that Touchpad is enabled
Expand the touchpad section, and check the box that says—Leave touchpad on when a mouse is connected
It is possible that you have disabled these settings, and when you start using the laptop again, the touchpad doesn't deliver a response.
2] Enable Finger Scroll from Settings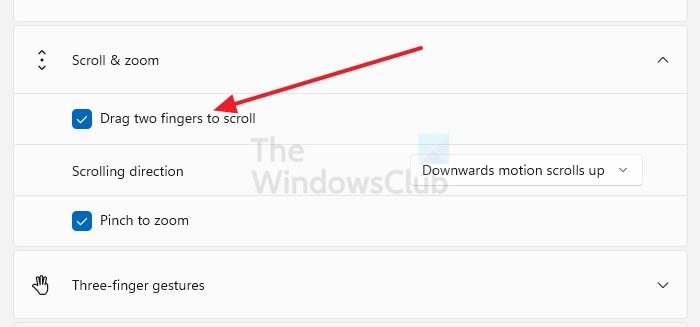 Two-finger gesture is a standard for any touchpad. In Windows, the settings appear as Scroll & zoom where you can configure the settings.
Open Windows Settings (Win + I) and go to Bluetooth & devices > Touchpad
Locate Scroll & zoom section and expand it
Check the Drag two fingers to scroll checkbox
You can also configure the rest of the settings such as Pinch to zoom, scrolling directions, etc.
3] Touchpad Compatibility
If you are running an older configuration, it is possible the gestures may not be supported. The best way to check that out is by checking with the OEM driver page and see if it is supported for the OS you are currently running.
4] Update Touchpad Driver
The next method in the line is to update the touch driver. It is best not to rely on Windows Update to install the driver, but instead, you can directly download from the OEM website. You can either use the OEM offered driver updater software or download it directly if you already know it. Make sure to check for compatibility issues.
5] Check with OEM Gesture App
Many OEMs offer an application to configure the gestures with the touchpad. It is possible that Windows doesn't provide the settings directly. So instead, you can check with the OEM if they offer a two-finger gesture configuration.
Why does the scroll not working problem occur?
When gestures don't work on your laptop, it can be because of disabled gestures, an incompatible touchpad, or an issue with the driver. If you have one of the latest laptops, then chances are it's disabled, but for old laptops, it could be because of the driver. All of this can be resolved with the right methods.
How do I turn on touchpad gestures?
You can either configure it through Windows Touchpad Settings or use the OEM software to configure to enable and then customize based on your need. You will be limited to touchpad capabilities.
Why is my touchpad acting weird?
If the touchpad is working properly when running on the battery but acts weird when plugged, then the problem is with the power source. It usually happens when there is an earthing issue with the source. So either you can try another plug or keep using it on battery.