Undoubtedly, Evernote is one of the finer note-taking apps out there, and it is popular among small teams as well. Evernote has cross-platform apps available for Windows, Android, iOS, Mac, etc. But if you are looking for something else, you may want to check out Tusk, which is a free and open-source Evernote client for Windows. The advantage of using Tusk over the official Evernote client is that it offers some additional features that are not available in the official release of the Evernote app for Windows.
Tusk Evernote client for Windows 11/10
Tusk comes with some awesome functionalities which will improve your productivity for sure. Some of the useful features are mentioned below.
Different themes: Nowadays, Microsoft is bringing dark mode/theme in various inbuild apps like Microsoft Edge, Windows Settings as well. You can get the same dark mode or theme in Tusk as well – along with a Sepia version.
Auto Night mode: This activates the night mode automatically based on the light available in your surroundings.
Compact mode: The compact mode in Tusk helps you write better notes by hiding all the unnecessary tabs and options. This is useful when you are writing long paragraphs or articles.
Scalable interface: This is probably the most useful feature since you can adjust the interface as per your wish. If you need large font or icons, you can set a high scale and vice versa.
Export notes as PDF: You can export any note as PDF within moments.
Apart from these, you will get almost all the editing options which are available in the official Evernote app for Windows.
Download & use Tusk on Windows
If you want to try this app on your computer, download it from Github. After installing, you will see a window like this:
Enter the valid Evernote username and password to log in. After logging in, you should get an interface like this:
Changing the theme
If you want to change the theme, you can use the keyboard shortcuts as follows:
Sepia theme: Ctrl + G
Dark theme: Ctrl + D
Black theme: Alt + Ctrl + E
Alternatively, you can go to View > Toggle Theme.
Export note as PDF
If you want to export the note as PDF, there are two different ways. You can use the keyboard shortcut, which is Ctrl + Shift + E. Otherwise, you can go to File > Export note as > PDF.
You need to select a location, where you want to save the PDF and then, name the PDF as you want.
Toggle menu bar or mode
You can show or hide various menu bars and use different modes like Focus Mode. For that, you can go to View and choose options as you wish. You can also use some keyboard shortcuts:
Toggle Side Bar: Crtl + \
Toggle Full Screen: F11
Toggle Focus Mode: Ctrl + K
Toggle Developer Tools: Ctrl + Shift + I
Zoom in or out
If you want to get bigger or smaller icons and texts, you can use the zoom in or out functionalities of the Tusk app.
For zoom out, you need to press Ctrl + –.
For zoom in, you need to press Ctrl + Shift + =.
Share notes from Tusk
You can create and share notes right from the Tusk interface. You can send the note as an attachment via Gmail, or you can share it on Facebook, Twitter, LinkedIn, etc. The best thing is that you can get a shareable link as well.
Customize keyboard shortcuts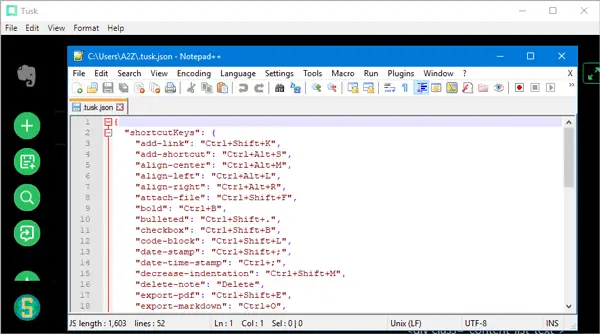 If you do not like to use the preset keyboard shortcuts and you want to set custom hotkeys, here is how to do that. Go to File > Edit Shortcut Keys. Following that, you need to select a text processing app to open a file. Here, you can change the keyboard shortcut according to your requirements.
There are many other options you can discover while using Tusk on your computer. If you like, you can download this open-source application from GitHub.