There are many photo editing tools for beginners as well as professionals and for different platforms like Windows PC, Windows Phone, etc. Most of the photo editors have "black & white" and "sepia" effect, but only a few of them have a sketch effect. When it comes to realistic sketch effect, most of the image editing tools lag behind some web apps. If you want to turn a photo into a sketch or a pencil sketch, here are some websites. All of them are completely free and very easy to use.
Turn photo into sketch online free
1] PicJoke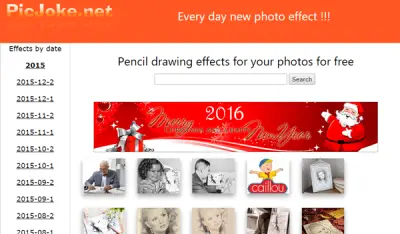 PicJoke is one of the best websites for this purpose. Behind its popularity, there are so many professional and very realistic sketch effects. The most helpful thing about PicJoke is you can get a live sample before using your own photo to turn that into a pencil sketch. This website has been live since 2009 and all the demos are categorized by year. Apart from that, you can find your best suit using various tags like Photo frame, collage, funny, tattoo, etc. On the other hand, it is very easy to use. You can either upload any photo or use your webcam to capture photos before giving it a sketch effect.
2] Fotor
Fotor is a popular cross-platform photo editing app and it comes with loads of effects. Although, it doesn't come with an exact sketch effect, one of the effects looks exactly pencil sketch effect. This is called Secluded, which can be found under MONO section. You can make use of the Fotor website to use that. At first, visit Fotor website and choose your photo. Then, switch to Effects tab, expand MONO and select Secluded from the effect list. If you have a face or nature wallpaper, this tool works better than others.
3] Pho.to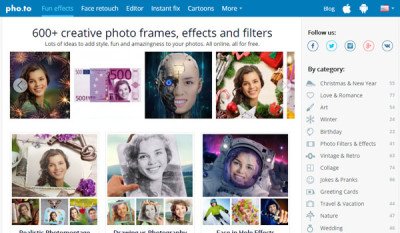 This is a simple yet very useful website to convert image into sketch. The plus point of Pho.to is, you can import an image from Facebook as well as any web page by URL. This is certainly possible to select an image from the computer. Alike PicJoke, it comes with a lot of sketch effects. Apart from the black and white sketch, you can find some color sketches as well and this is where it excels. You can also add text, adjust the brightness and do other regular things. But, a watermark will be printed with your image when you will save it.
4] Photo Face Fun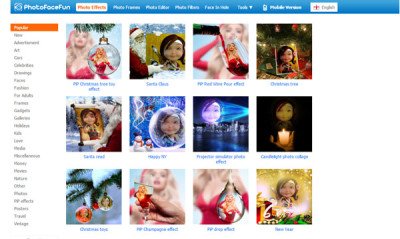 You can use your face in different locations using Photo Face Fun. It is possible to create a banner, scenery, add a photo into city lights and more. The two more useful things is Artist Sketch and Pencil Sketch. Although, both of them work almost similar and provide similar effects, but there is a little difference. The Pencil Sketch effect is more realistic than the Artist Sketch. But, for wallpaper, Artist Sketch is better and for micro-object, Pencil Sketch looks better. However, you can try both of them and find the better one.
5] Any Making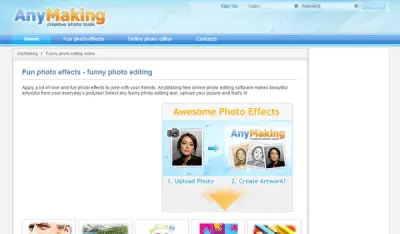 Any Making is another online image editing tool that can help you to turn photo into sketches within moments. Like Pho.to, you can include various color sketches as well. Although, it doesn't come with any realistic dimension, this is good for wallpaper or a simple portrait. It is very easy to use. Just select an effect, upload your image and hit the Save photo button. Apart from adding a sketch effect, you can use snow, engrave, cyber, computer, etc. effects and it works fine with any image. But, if you have a bigger image, you will get a better result.
6] Loona Pix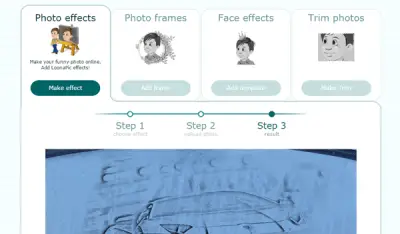 Loona Pix has a large collection of image effects. You will have to execute 3 steps to add any effect. Apart from having a pencil sketch effect, it comes with more others. This tool works better with a face. If you want to use a micro object, you may not get as good a result as a macro object. To use Loona Pix, at first, you will have to choose the sketch effect from the website. Then upload your image to Loona Pix. You can also choose an image from the web. After that, click on CREATE IMAGE button. That's all! Your image will be converted within seconds. As there is no highest image size limit, you can use any image you want.
There are other tools like XnSketch and Perfect Effects those can help you to turn photo into sketch.