XnSketch is a free and portable image editing utility that lets you turn photos into cartoons, add sketches and other effects to your images. XnSketch comes packed with a set of beautiful effects and awesome features. Each effect is customizable up to some extent. The freeware is really very easy to operate. Just open an image, add some effects and save it as you want.
Turn photos into cartoons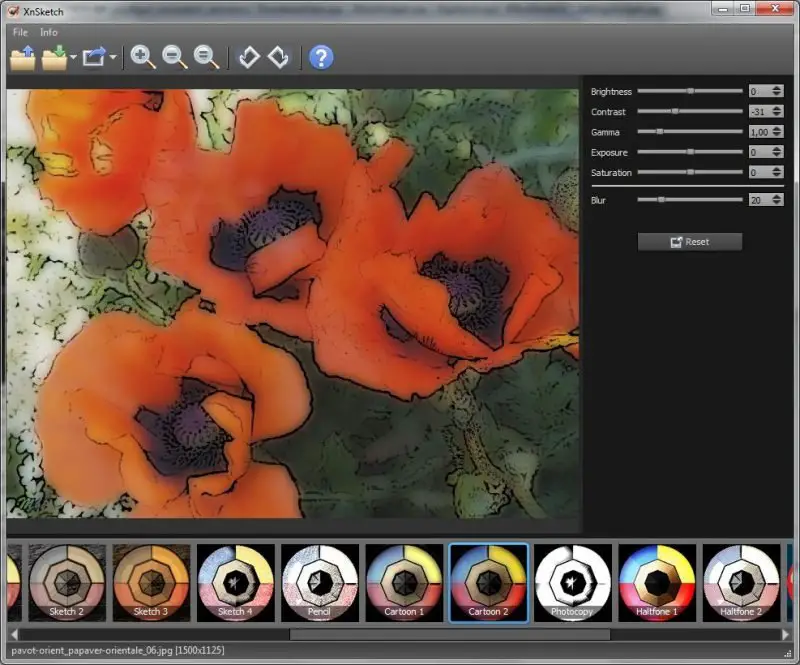 The software comes with eighteen different effects which include:
Black and White
White and Black
Neon
Pastel
Dull Pastel
Mono
Sketch B&W
Sketch 1
Sketch 2
Sketch 3
Sketch 4
Pencil
Cartoon 1
Cartoon 2
Photocopy
Halftone
Hope
Oil
Print
Some more…
For some effects, you can easily adjust edges. You can make images look more crisp and sharp. You can even adjust opacity and colors and make your image look more vivid and brilliant. For some effects, you can even adjust the base color of the image and add a color tone to the image.
The software comes with all the basic features like adjustment of brightness and contrast. Gamma and exposure can also be adjusted by the software itself. Adjustment of saturation is also another great feature of the software. You can even rotate images. A reset button has also been provided to revert the changes made to the image.
XnSketch comes pre-packed with sharing features. I mean you can easily share images on popular social networks like:
Facebook
Tumblr
Picasa
Imgur
Imageshack
YFrog
GlowFoto
TwitPic
Etc.
XnSketch comes with a nice and intuitive interface that is very easy to use. It is a single-window program that has no additional popups or adware.  It is available to download as a portable version which can be carried along in a portable USB Drive.
If you love XnSketch, you will also love it while using it on your mobile device. XnSketch is available for mobile platforms too, namely Android and iOS and we are expecting a soon release for Windows Phone too.
XnSketch free download
Click here to download XnSketch for Windows. It works very efficiently and the results are accurate. You will be impressed by the results of this amazing software.
Read next: XnRetro lets you add Retro and Vintage effects to photos on your PC.