Not every image editor has to be Photoshop, but if you are looking for a quick, fun way to enhance your photos and add some unique and neat effects, you should check out Fotor. It offers a desktop program as well as a Microsoft Store app for Windows 11/10.

Fotor is a free Image Editor for Windows PC
Fotor is a finely crafted image-editing tool that offers many interesting filters and tools for customizing your photos before you upload or share them. Besides being a fast and simple tool, Fotor includes all standard image editing features like frames, photo collage, and effects.
The main overview invites users to make a collage and edit pictures. There are two buttons to investigate: Edit and Collage with a grid of six sample photos. Clicking on any sample photo will take you to the editing interface of the tool. This is the best way to take a feel of image editing features of Fotor.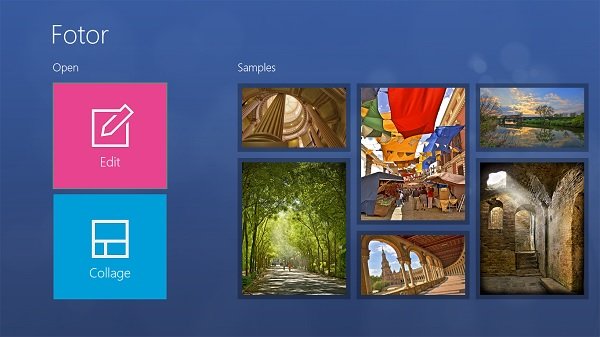 The Edit option pulls up the Camera Roll and the other folders of PC where you have your favorite pictures. You can pull an image to the editor and use the advanced editing features like add borders, add text, crop, scenes, special effects, one-tap enhance, and tilt-shift. These options help you to edit your photos creatively without having any photo editing expertise. The toolbar is divided into two sections where one section shows basic tools and the other shows detailed features.
The tool contains almost every feature required for an impressive image editing like-
Scenes- offering various effects for your photo like backlit, darken, shadow, cloud, etc.
Edit- opens various adjustment options like contrast/brightness, saturation, temperature, tint, etc.
Crop- allowing you to crop the image in the desired proportion. Straighten option helps you to crop the image in various angles.
Effects- this option opens various effects for your photos like B/W, Classic, Lomo, Dark Corners, etc.
Tilt-Shift- This feature offers fine-grained adjustment for your photos. You can select the focus area of the photo so that the surrounding area gets blurred out highlighting the focused area. It offers many adjustments via tilt shift's angle, radius size, and aperture size.
Text and Borders- Offers standard collection of borders and text input options for your photos. Although there are limited numbers of fonts available, the text-decoration feature allows you to enhance your photos well.
Fotor Collage mode allows you to make a collage with 60 different templates and 16 unique backgrounds. It also has a Freestyle collage option where you can move/rotate/transform the images around. You can use up to 9 photos at a time and create attractive collages. The multi-featured Fotor Collage Maker helps you to adjust the border, add a unique background, and add shadow effects to your collage.
Overall, Fotor is a great place to start if you are looking for an interesting and multi-featured image editing tool for your Windows PC. This free tool helps you to create some very attractive images and collages with a very simple interface.
You can download the free tool here.
Cool Photo Effects is a similar app that may interest you.
Go here if you are looking for free photo editing software for Windows PC.