Google Suite or G Suite or Google Workspace offers unlimited storage to its Enterprise, Education and Business users. If you keep a lot of documents on Google Drive and need to search them often, Google recently enabled a feature that can be useful. As a Gsuite admin user, you can Turn Drive suggestions On or Off for Chrome Browser (GSuite). It will allow the users to search for Drive files, even ones they haven't previously opened in Chrome.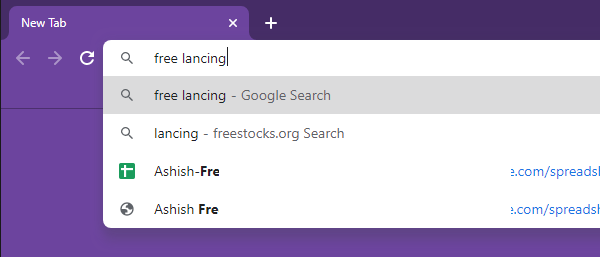 Turn On or Off Drive file suggestions for Chrome Browser
Go to In your Google Admin console and sign-in with the Business account
Navigate to Apps > Google Workspace > and click on Drive and Docs.
In Settings for Drive and Docs, click on Features and Applications.
Under Surface file suggestions in Google Chrome, select Allow Google Drive file suggestions for signed-in users whenever a search is performed.
If you want to turn it off, choose to select the radio button Disable Google Drive file suggestions.
Click Save.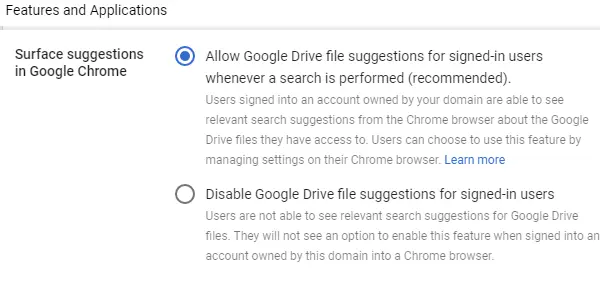 When using Chrome, make sure the Chrome Profile is a GSuite account and not a Google account. While you can always switch account since it will work on the Chrome address bar, make sure to sign-in to Chrome by adding a profile.
If you have a GSuite account that was free during its early stages (before December 6, 2012), then your account is "Legacy free edition of Google Apps." This feature is not available for the legacy free account.
How can users turn on or off Drive file suggestions in Chrome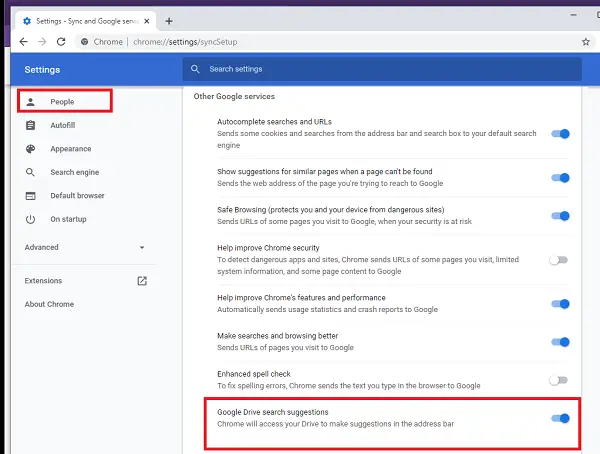 It is possible that some of you may not like the option to see files listed as a search result, and if that's the case, you can turn off Google Drive search suggestions. However, you can only change it, if it has not been already disabled the admin.
Open the Chrome browser and go to More > Settings.
Under People, click Sync.
Turn on or off Google Drive search suggestions.
Make sure to sign-in with your GSuite account to view this setting, else it will not work.
I hope it was easy to turn on or off the Google Drive suggestion settings.