We have already had a look at some free online password managers, as well as some free password manager software, including PassBox, earlier. Today, I would like to introduce you to Trend Micro DirectPass Password Manager – from the makers of Trend Micro Go Everywhere & Trend Micro Safe Guard – which works on Windows PCs, Macs, iOs and Android mobile devices, and you can use it on as many of these devices as you want and use it across multiple devices. It is available as a desktop software as well as a Windows Store app.
Trend Micro DirectPass Password Manager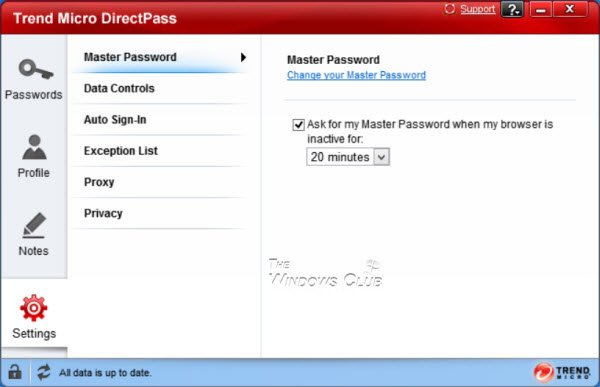 DirectPass is a convenient and secure way to save your passwords and log in to websites which require credentials. The main feature of this password manager is that it encrypts your key strokes and passwords and thus protects everything you type from being read by cybercriminals. It will help you gain easy access to all your online accounts by allowing you to manage your online credentials with in-the-cloud synchronization across multiple devices.
Once you have downloaded DirectPass, you will required to create an account at Trend Micro. Only then will you be able to proceed with the installation and use.
Now whenever you visit any website that requires a login, DirectPass will ask you if you would like to save the credentials, so that the next time onwards you need to remember and enter only your master password to fill in the credentials box.
Key features:
One-Click Log In. Works with your browser for quick and easy access
Keystroke Encryption. Protects everything you type from being read by cybercriminals
Cloud Sync. Backs up and syncs all your DirectPass data wherever you are
Password Safety. Easily see and change weak passwords
Smart Security. Locks your passwords when you step away from your computer
Secure Browser. Keeps you safe with enhanced security features when you bank online
Web-Based Password Management. Makes managing your passwords from any location quick and easy
Secure Notes. Stores important or frequently accessed information in a safe, convenient location
Password Strength Meter. Identifies any of your weak passwords.
The free version allows saving of only 5 logins, hence we say, use it only for sensitive logins, like banks, investments, financial, credit card, etc only. If you need to store more, you will have to buy its full version. So from that point of view, the desktop version is cripple-ware!
DirectPass is also available as a free Windows Store app for Windows 8 users. It will give you an encrypted storage location for all of your online login credentials as well as in-the-cloud synchronization across multiple devices.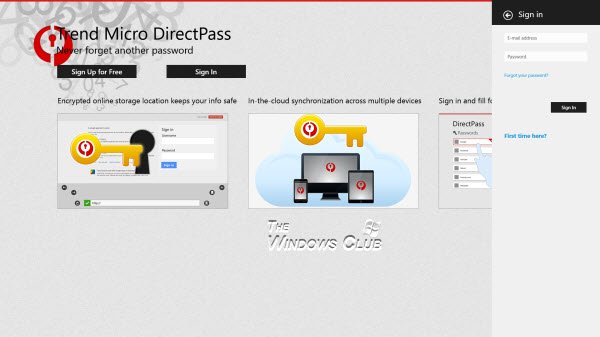 If you want the desktop version of this software, visit it download page on Trend Micro. It will run on all versions of Windows, including Windows 8.1. Windows 8 users may, if they wish, have the option of downloading and using the completely free app, which is without any restrictions, from the Windows Store.
You might want to also check out F-Secure KEY, another free password manager from a well-known security firm.