Registry Trash Keys Finder or TrashReg is a registry cleaner with a difference. It will remove even the trash, obsolete and useless registry keys left behind by trial software on a Windows computer after they are uninstalled. The freeware is positioned as an addition to other serious registry cleaners you may be using.
Registry Trialware Trash Keys Finder for PC
TrashReg comes with an extremely simple interface with no confusing tabs or buttons. This lightweight program takes less than a minute to download and install in your computer system.
The main overview of the program shows everything. The software starts checking for obsolete registry keys in your system as soon as you start it. Once done with scanning, it shows a detailed list of obsolete keys stored in your system.
TrashReg not only finds the obsolete keys but also gives detailed information like the date of creation, last modification time of the key, key description as well as the path (location) of the key in your system. You can sort out the keys according to the date, type, name, or description of the key.
From the Tools tab, you can easily toggle between 32 and 64-bit modes. It also allows you to search for any key on Google Search directly. Just select a key and click Ctrl+G.
TrashReg lets you decide whether to keep or delete the keys. You can select and delete the entire list in one go.
Other options include the selection of language, auto-cleaning at startup, creating a backup, auto-merge the files from the subfolder and adding a key to the protected list.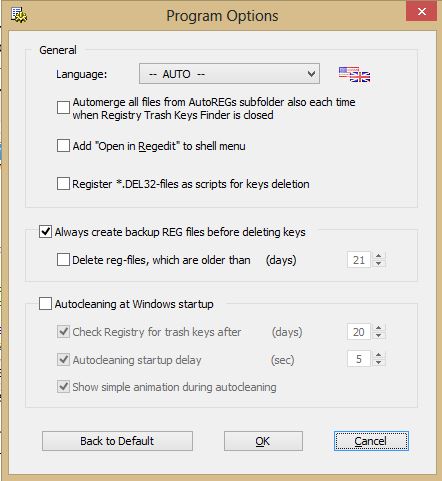 Usually, when we download and use a trial version of any software, it comes with a long list of files and most of these files remain in your system even after you uninstall and delete the software.
The main function of this advanced Registry cleaning tool is to remove the unnecessary registry keys stored in your computer system, after the trialware is uninstalled.
Says its developer:
The program RTKF is not a 'crack' but is an addition to other "serious" Registry cleaning software. No breach of software license agreement of the programs in use which "remains" are found by TrashReg takes place: nothing is "patched" into EXE files and their action is not traced by special "spies". I do not distribute any registration keys, and moreover one may not know anything about trial versions of any programs, which for their needs could write something hiddenly. So as the RTKF user you simply clean some trash from your computer Registry.
Overall TrashReg looks like a useful program that finds and cleans all the unwanted keys, including those which may be hidden from the Windows Registry.
You might want to read the following posts before you use any registry cleaner:
Although Registry Trash Keys Finder is free, there are some minor limitations, where some details of some keys are not shown. If you donate, then you will be able to see them. There are a few important additional searches not fully implemented in the free version.
Visit its home page here at trashreg.com if you need further details. It has been tested on Windows 10 too.
Best to create a system restore point before making any changes to your system.