If you have subscribed to many YouTube channels and now want to transfer your YouTube subscriptions from one account to another YouTube account, you can follow this tutorial. There is no need to open one channel at a time and subscribe to that from your new account when you can use this free web tool to get that done at once.
YouTube is the biggest video streaming website, and there is no doubt about that. You can find any video on YouTube, and that is why this website is so popular. You can subscribe to any YouTube channel and get a notification when that channel uploads videos.
Let's assume that you have subscribed to fifty YouTube channels from your Gmail account, and now you want to move all the subscriptions to a new Gmail account. There are two methods to do that.
First, you can open each YouTube channel from your new account and hit the 'Subscribe' button manually.
Second, you can use this free Evan Reilly YouTube Subscriptions Importer tool to subscribe to all the channels at once from your new account. If the second method sounds interesting to you and you want to use this tool, here is what you can do.
NOTE: Since the open-source tool requires you to share your credentials, we recommend using your discretion.
Transfer YouTube subscriptions from one account to another
There are two methods to transfer all YouTube subscriptions from a new account to another at once-
Export subscriptions from the old account
Use Evan Reilly YouTube Subscriptions Importer tool to import the list.
To get started, you need to export the subscription list from your old account. For that, visit this page and enter your old YouTube account credentials to manage subscriptions. After signing in, scroll down to the bottom of the page until you get an option called Export subscriptions.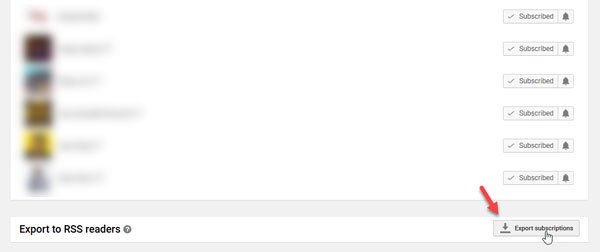 Click this button to download the .xml file containing the list of subscribed YouTube channels.
YouTube Subscriptions Importer
This tool will let you import all the YouTube subscriptions to your new account at once.
To get started with this tool, click the Choose File button, select the downloaded XML file and click the Import button.

Now, you need to enter the credentials of your new YouTube account, where you want to import the channel list. After allowing this tool to manage your YouTube account, it will finish the import process.
Following that, you will be able to manage your list from the new YouTube account. However, if it doesn't import after permitting it to access your YouTube account, you need to click the Import button once again.
Now, you should find the list of all subscribed channels on your screen. After doing that, if you want to revoke this web apps' access to your YouTube account, you can click the Revoke access button that should be visible on the bottom-left corner of your screen.
Evan Reilly YouTube Subscriptions Importer is an open-source tool, and you can find the source code on github.com/evanreilly/youtube-subscriptions-importer. After downloading the .xml file, you need to visit a website mentioned there on their Github page.
How to transfer a YouTube channel to another account?
You can add the email id of another account in the YouTube Channel's admin interface and make it an admin or owner. Once done, the new admin account can remove your account, and it will make the channel his own. However, you will have to disconnect any connected services such as Adsense, the previous owner.
How to recover deleted YouTube Videos?
The only way is to connect with YouTube Support and fill a long-form. You will need to give the URL of each video along with few more details to get it back. The process may take time, and you should act fast, so it is not deleted from the server permanently. Usually, when you delete a video, it is sent for processing, and there is a small gap between them.