This post is meant for kids who want to know where Santa Claus is right now and who want to track him online. If you are reading this post, I guess it's that time of the year when Santa Claus will soon start traveling worldwide, distributing his gifts.
Santa Claus tracker websites
1] NORAD
The NORAD Tracks Santa Web site is the newest version of a public relations program by NORAD, the North American Aerospace Defense Command, involving the countries of Canada and the United States.
Every year for over fifty years on Christmas Eve, NORAD has put out stories of how their robust tracking systems, such as the Distant Early Warning Line (DEW Line), had detected Santa Claus was leaving the North Pole to deliver his presents to children at North America, and in more recent years, around the world. Google Inc., in 2008, teamed up with Norad, the North American Aerospace Defense Command.
The NORAD Santa Tracker website at noradsanta.org will show Santa Claus & his reindeer leaving the North Pole from the North Pole towards the whole world delivering presents. NORAD tracks Santa with Bing.
You can also track Santa on Twitter.
NORAD Track Santa App for Windows
Santa trackers may be delighted that NORAD has released an app for Windows 8 that will allow you to track Santa's journey.
NORAD Tracks Santa is ready to begin the countdown to December 24th. Join us as we begin the countdown to Santa's journey. Watch Santa traverse the globe in real-time on Christmas Eve as he distributes gifts to all the world's children! Learn about how and why NORAD tracks Santa. Watch videos about Santa's journey and hear special holiday greetings from each of our Commands.
The app works as a Countdown Timer to Christmas Eve, when Santa begins his journey. Then you can track Santa as he traverses the world, delivering gifts. See where he's been and where he's headed next!
The app is free and can be downloaded from the Windows Store.
2]  Google Santa Tracker
Google has announced a new way to track Santa, using the Google Santa Tracker. Google Maps engineers have built a new route algorithm to chart Santa's journey worldwide on Christmas Eve.

Apart from offering Santa's dashboard on the Google Tracker website, Google has also introduced a Chrome extension and an Android app to help you track Santa on your mobile devices.
Our friendly elves have also invited you to explore Santa's village while Santa gets ready for his journey. So go ahead and explore his village, you might just find some fun activities and meet some interesting elves, says Google.
You can follow Santa on Google Maps and Google Earth and get his statistics starting at 2:00 a.m. PST on Christmas Eve here at google.com.
3]  Track Santa with NorthPole.com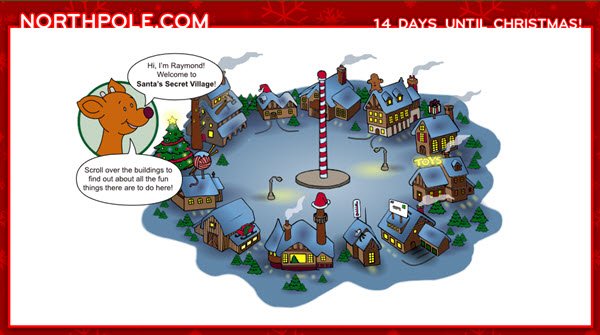 This site lets you track Santa and also offers plenty of related activities for the children.
PS: Windows 11/10 Christmas Themes, Wallpapers, Tree, Screensavers, Snow, and more here!
Where is Santas Clause Village?
You can visit Santa Claus and cross the Arctic Circle every day of the year at the Santa Claus Village in Rovaniemi, Finland. Santa Claus spends his time at the Santa Claus Village taking care of his mission in life; to enhance the well-being of children and the kindness of grown-ups.
Where was Santa Claus born?
Nicholas, the namesake of Santa Claus, was born in the ancient city of Patara, an important hub on the Mediterranean coast of Türkiye. Around 300 AD, during a time of prosperity for Patara, a wealthy wheat merchant had a son and named him Nicholas. He decided to use his wealth to help others and became known for his generosity. He would often secretly give gifts to people in need.