CD DVD data recovery software allows you to recover and rescue lost or corrupted data from damaged and unreadable disks. The top 3 CD DVD data recovery freeware for Windows 11/10/8/7, in my opinion, have been listed here.
Recover Data from CD DVD
1] IsoBuster
IsoBuster is a highly specialized, easy-to-use optical media data recovery tool. The high-end program has the capability to use its 'Retry' mechanisms to aid you in getting the data back, even if Windows is not able to do so.
The latest release, IsoBuster accommodates some new features and improvements. This includes,
Ability to "OK to all" on Windows IO errors during extraction to avoid X amount of such dialogs when multiple files are processed
Updated EWF support to the latest and greatest status of the LibEWF project
Ability to build lists, showing the extent of fragmented files. [Business] feature.
2] CDCheck
This software is a good alternative to IsoBuster. It is free for personal use. However, you are required to request a free license for personal use CDCheck online. For this, you must register as a CDCheck online user, activate your account, log in to CDCheck online and request the free license.
This CD DVD Data Recovery Software scans disks in minutes, to indicate the overall health of a DVD or a CD. If a CD or DVD shows any damaged file that you can no longer read, CDCheck can be switched to recovery mode and make a full sweep of the CD or DVD, recovering lost files along with the way.
3] CD Recovery Toolbox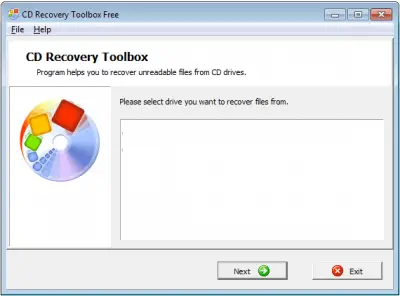 The CD Recovery Toolbox Free scans any CD or DVDs to recover data, considered as lost. This tool tries to find and restore the possible maximum amount of information. Necessary to mention this since not all the lost data can be recovered.
Once you run the program, it displays a list of all files and folders available for recovery. A user can then select the files and folders which he wishes to recover and restore. Only those specific objects which have been selected will be recovered while the others will be ignored.
Features:
Recovers information from any CD and DVD disks
Recovers files larger than 4 GB
Detects possible lack of free space on the hard disk for storing the recovered files.
All the above free software are compatible with Windows 11/10/8/7.
Do let us know if you have any favorites!
Looking for more options? These free Data Recovery software and USB Drive Recovery software are sure to interest you.