Tomahawk is one of the lesser-known audio-playing applications that holds a huge potential for the future. This review of Tomahawk aims to shed some light on the capabilities of the social media player –one of its kind that allows you to listen to your friends' playlists without having to actually buy music. And since that involves socializing, I am calling it a 'social media player'. Sadly, it plays only audio else it would have been the target of many (see the last section of this article).
Tomahawk Audio Player
Using Tomahawk Player, you can create playlists based on the collection your friends have. When you play the playlist, Tomahawk fetches the music from your friends' computers if they are online. If your friends are not running Tomahawk when you are trying to play a playlist based on your friends' collection, Tomahawk connects to major music sites and retrieves the music for you.
The sites Tomahawk can connect for music include YouTube, SoundCloud, 4Shared, Last.Fm, Official.Fm and more. In fact, you get a list while setting up Tomahawk where you can set up the 'resolvers' from where you want Tomahawk to retrieve music for you.
You can also create random playlists using keywords. For example, if you want to listen to Miley Cyrus, you can create your own radio station (automatic playlist) using 'Miley Cyrus' as the keyword. Based on the 'resolvers' you selected in its settings, Tomahawk checks out the different music streaming websites and brings you the music. You can see which site is streaming by looking at the playlist window.
Interface Of Tomahawk Media Player
I have to say that the interface of Tomahawk is a little complex and takes a while before people can get used to it. The left pane of the Tomahawk audio player shows you your music collection on the computer; the list of your friends and if they are online, the music they have; and browse options that allows you to browse your collection as well as the Internet.
The Browse option shows you the files you have played the most; top loved tracks from the Internet; recent charts showing top music albums and a dashboard that shows you details about recent additions to your collection and what you have been playing. Note that even if you do not have the files in charts or top loved tracks locally on your computer, you can listen to the music as Tomahawk will resolve and fetch those tracks from one of the many kinds of music streaming sites.
From the window pane showing top charts, you can narrow your search using the controls available on the top – Music site (examples: iTunes, Soundcloud); Country; Album or Track; and Music genre (Example Pop, Fusion, Alternative, etc). See the image above for an idea of how to select these options using the drop down lists present above the listed albums.
On a scale of 5 to 1, I would give a rating of 2 to the Tomahawk interface – the navigation is difficult, and even more difficult is trying to understand the options available. But that does not in any way, lessen the many benefits of using Tomahawk – the most important benefit being you do not always have to buy music.
Networking And Music Sharing
Adding your friends to Tomahawk is easy. You can add your friends from Twitter, Jabber, and Google in Tomahawk version 0.4.2. You can send your friends a message to download and install Tomahawk and then add you as a friend. Alternatively, if your friends are already using Tomahawk and have registered their Twitter accounts or Google accounts with it, Tomahawk will automatically add them to your friend's list.
The benefit of adding friends to Tomahawk is that not only you can see what they have been listening to but you can also create playlists based on their collections.
Once you have the playlist, you can ask Tomahawk to play the music for you. If your friends' computer is not available, Tomahawk will use one of the 'resolvers' to play the same music using music sharing websites.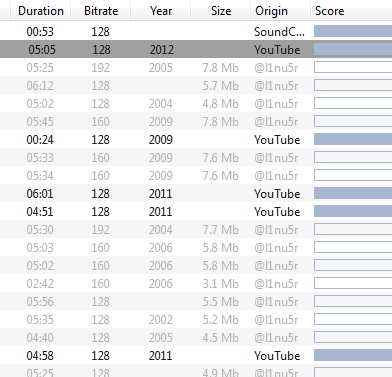 This means that once your copy of Tomahawk makes a list of your friends' music collection (probably using the headers of audio files), you can listen to them even if your friends are not online – courtesy of the 'resolvers' such as YouTube, SoundCloud, and 4Shared.
One a scale of 5 to 1, I would give a rating of 4 to Tomahawk's ability to share music among friends and via music sharing websites.
Tomahawk Review – Other Options
If you wish to listen to music without letting your friends know about what you are listening to, you can click on the Controls menu and select Listen Privately. This setting prevents Tomahawk from publicly displaying what you are listening.
If you wish to appear offline to your friends, Tomahawk got that option too. To achieve this, select Go Offline from the Network menu. When you select this menu, your name will be shown as offline in your friends' copy of Tomahawk.
The Global Search option on the top of Tomahawk's left pane allows you to search for music using keywords. The keywords can be track name or artist name.  When you search for anything, Tomahawk searches your local collection first and then your friends' music collections. This done, it searches all the 'resolvers' for the search term and displays search results in the right pane of Tomahawk. To play the music, simply double click on the items displayed in the right pane. You can also save the search results as a playlist. Note that every time you play the music that is not present on your computer, Tomahawk downloads it from 'resolvers' or music sharing websites. This means that you will be incurring download costs.
Setting up resolvers is easy too. From the Settings menu, select Configure Tomahawk. In the dialog box that appears, click on Resolvers. From the list of options that appear in the resolvers dialog, click to tick and add music sharing sites as resolvers. You also get to select the options for retrieving music from YouTube (high, medium, and low) based on your bandwidth.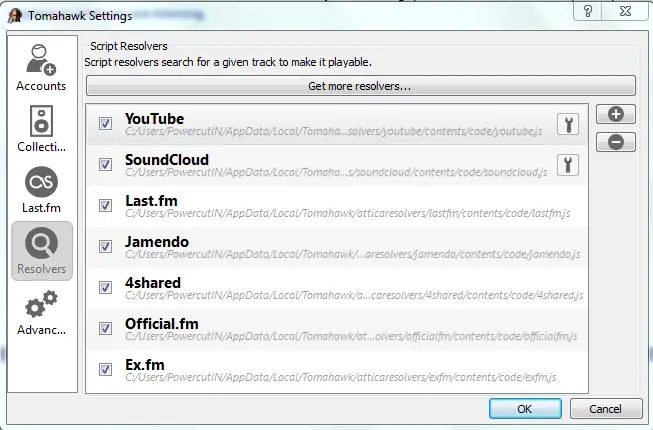 Also, note that playing Tomahawk can result in high usage of bandwidth and you may incur expenses for downloading songs each time you play the ones not present on your computer. But that cost is way less than actually purchasing the music albums. Also, without sharing features, Tomahawk would not be Tomahawk – the ultimate social media player.
Copyright & Ethics – Review Of Tomahawk Streaming Music
This is one of the highly debated issues. Is it fair to share music over the Internet? Since you are not actually downloading the tracks to your local computer for future use or for broadcasting, maybe it is fair. On the other hand, do the music creators suffer any kind of loss if you use Tomahawk to listen to shared music? YouTube is known for pirated music and videos and so is SoundCloud.
Still, when I was researching about the copyright issues with Tomahawk, I found some interesting comments on the Internet. I am sharing one of those comments with you.
From what I gather Tomahawk simply streams the music through a legit service, which means that royalties are being paid though those legit services. Unless the music is on your local drives of course.Youtube, Spotify, etc. all pay licensing fees for the music that is played,it's not  actually shared between users, Tomahawk simply finds a song in a music service and plays it
The above comment looks good but do YouTube and/or SoundCloud really pay a royalty to music creators for all the pirated music uploaded to their sites? I doubt it. Or does Tomahawk search only from the music marked as original? There is nothing on the Internet to counter this doubt.
Here is what the legal section of Tomahawk website says about the copyright part –
"The team developing Tomahawk hails from all over the world and with a large variety of applicable local laws governing copyright and intellectual property. To our knowledge, it is legal in any country for you to stream your personal files from a computer you own or control to any computer you are on…and this is our main goal.

Streaming beyond yourself is where you must pay attention to applicable laws in your country of residence. In many countries, streaming to anyone is perfectly legal so long as there is not a capability (which Tomahawk does not provide) of saving the streamed content to a file, similarly to how Internet radio works"
The bottom line is, if one can access music for free, why would he or she want to pay and buy the same? My research on the subject too says it is not illegal to share music but my concern is more about streaming pirated music. It is more about ethics, I guess.
Let us know your views about the copyright issue in the comment boxes below.