Windows 10 allows you to set the default location of apps, photos, documents, and other stuff to another drive if you wish to. It helps when you are running out of space. That said, it is only applicable for new apps, and the chances are that you may not be able to move existing apps. In that case, when you try to move the installed app, then you may get an error:
We couldnt move the app, The publisher of this app doesn't allow it to be moved to a different location. The error code is 0x80073d21, in case you need it.
The publisher of this app doesn't allow it to be moved to a different location, Error 0x80073d21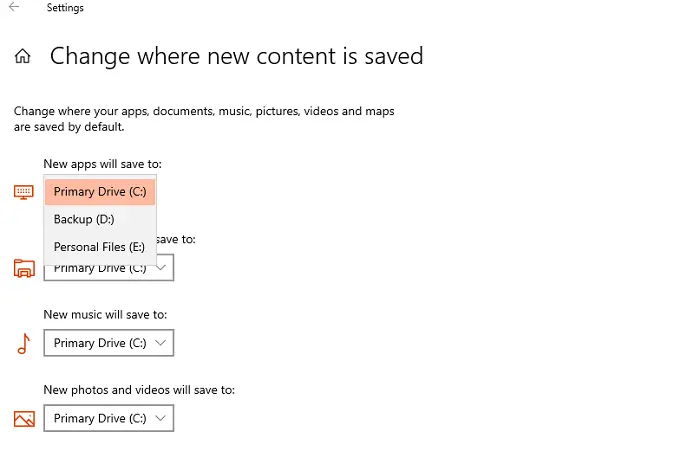 The error occurs when you select a different drive from the drop-down menu and click on the Move button. The problem here is that not all publishers allow changing the existing folder. So even though the UI shows the option to move, it cannot be moved. That said, there is a workaround, but it's going to be a bit tedious, and only if you have an actual need to move it, apply it for the app.
Open Windows 10 Settings
Navigate to Settings > Apps > Apps & features
Lick on the app listing, and choose to uninstall the app
Next, go to Settings > System > Storage page
Click on the "Change where new content is saved link"
Click on the drop-down in the "New apps will save to" and choose another drive
Now when you install the app, it will be stored in the new location.  That said, it is clear that while it is possible to move apps, but publishers can restrict it if they find the apps perform better when on primary storage. Many consumers have their primary storage as SSD drives, which delivers better performance. The secondary drives can be HDD, where heavy apps like games and editing software will work efficiently.
If you are a developer, you will need to change settings related to Microsoft Store that can be changed in the backend without the need for any compilation. Post that, the app has to pass through re-certification and re-publish. Consumers, on the other end, will have to reinstall the game and save it to any drive they want.
Lastly, this method only works for those apps which are installed from Microsft Store. You can always choose a location for other apps you download outside the Store, but for Store apps, this is the only way to install on another drive.