Do Teams call keep ringing continuously even after answering? Do you have to decrease the volume every single time? Well, if the answer is yes, there are two things that you need to know, you are not alone, and we got your back. In this article, we will see what to do when Teams call keeps ringing continuously even after answering it.
Why do my Teams call just keep ringing?
There are various reasons why Teams call keeps ringing, however, two of the most important are a bad Internet connection and the call itself. Therefore, it's necessary to have a stable Internet connection and sometimes, ending the call and starting a new one also solves ringing problems. However, a lot of time, this also does not help much, hence we are going to see some possible solutions.
Fix Teams call keeps ringing continuously even after answering
If Teams call keeps ringing continuously even after answering the call, open Task Manager, right-click on Teams and select End Task. You will not hear any sound, however, if this issue keeps on troubling you, follow the solutions mentioned below to resolve the issue.
Disable Teams call forwarding
Delete cache files
Repair or Reset MS Teams
Reinstall MS Teams
Let's get started.
1] Disable Teams call forwarding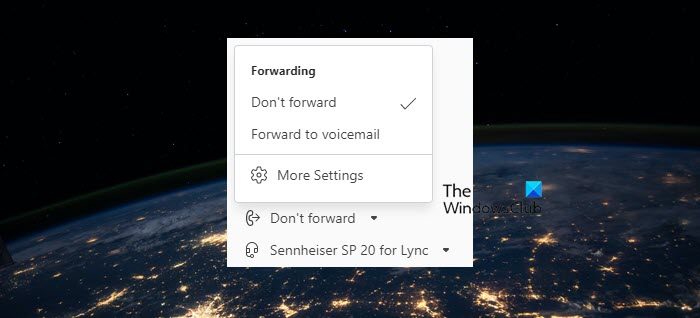 Call forwarding helps us to redirect or forward incoming calls. As per the complaints, there is a bug with call forwarding in Teams. It keeps on ringing and prompting the user to pick up the call if the feature is enabled. Since, we are facing the same issue, our best shot is to disable this feature from MS Team's settings.
Open Teams, click on the three dots from the top right corner and select Settings.
From the bottom of the list, click on Calls, and navigate towards Call answering rules.
Select Don't forward.
After enabling the settings, reboot your computer and check if the issue is resolved. Hopefully, the issue will not persist.
2] Delete cache files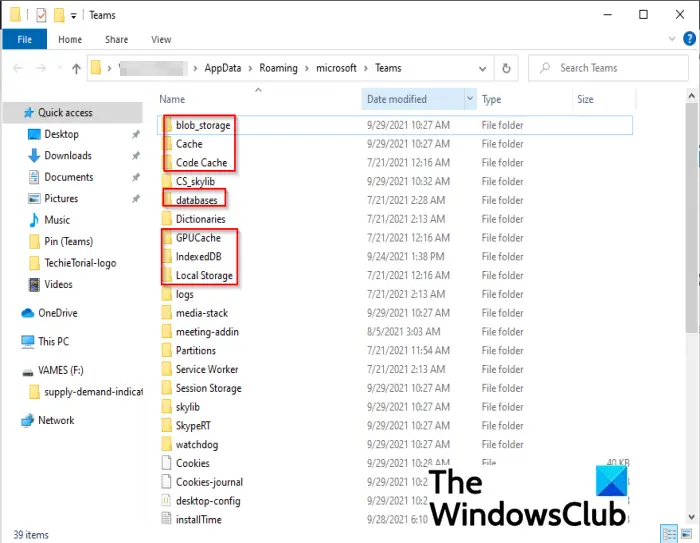 All the apps save their temporary data in the cache and Microsoft does the same. However, it's a known fact that when these caches get corrupted, users feel its effect in the form of continuously ringing calls. It becomes necessary to delete them and to do the same, click Win+E to open File Explorer. Now go to the following location.
C:\Users\<YourUserName>\AppData\Roaming\Microsoft\Teams
Select all the files related to Teams. They are stored in tmpfolder,  blob_storage,  cache,  GPUcache, databases, and local storage folders. Make sure to delete the contants of these folders and not the folder itself. Once done, restart your computer and check if the issue is resolved.
3] Repair or Reset MS Teams
Repairing MS Teams will repair corrupted Teams files if found. We are going to do the same through the Windows Settings, and in case, repairing doesn't work, we need to reset MS Teams to get rid of any misconfigurations that may have been triggering this issue. To do the same, follow the steps mentioned below.
Click Win + I to Open Windows Settings and then navigate to Apps > Apps & features or Installed apps.
Now, search Microsoft Teams and after finding it, click on it and then select the Advanced options link. To go to the Repair option in Windows 11, click on the three dots next to MS Teams and then select the Advanced option.
Scroll down and click Repair.
Wait for the troubleshooting task to complete. Once done, check if Teams keeps on ringing by deliberately calling it. In case, the issue persists, go to Advanced Options of Teams again but this time, click on Reset. 
You will have to setup your app again, but it will resolve the issue for you.
4] Reinstall MS Teams
Sometimes doing all the above solutions is not enough, and the problem can only be solved by installing a fresh copy of the app. This replaces all the corrupted program files, settings, and so on. To reinstall MS Teams, follow the steps prescribed below:
Click Win + I to open the Settings app and then click on the Apps option.
Select the Apps and features or Installed Apps tab, search and click on Microsoft Teams or click on the three vertical dots associated with it, and then select the Uninstall button.
Finally, follow the on-screen instructions to complete the uninstallation process.
After removing Teams completely, go to Microsoft Store and download the Microsoft Teams app. Log in to the account, and hopefully, ringing calls won't be a concern anymore.
Read: Microsoft Teams chat messages not showing up.
How do I stop my Teams from ringing when I already call?
Apart from the solutions mentioned above, we can also select Microsoft Teams' Do not disturb option. This will help us in avoiding getting disturbed during important meetings and calls.
Read: Audio cuts off automatically during a call in Microsoft Teams.