If you want to share clipboard with more than one device at once, this free tool called Magic Copy will help you. It allows you to synchronize clipboard across multiple devices. It is available for almost all the popular platforms including Windows 10. Many times, we need to share text or link quickly with a second computer or from mobile to PC or vice versa. Instead of using services like Google Keep or Evernote, you can use this freeware that will make things easier for you. It takes hardly five seconds to detect a new entry – and that is how you can send a long text to another device quickly.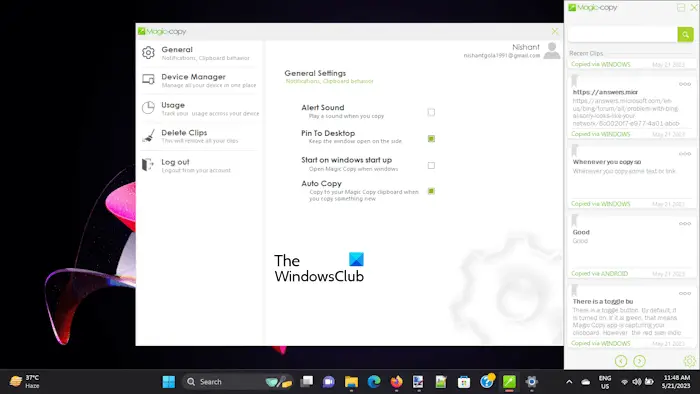 Sync clipboard between multiple devices
Using Magic Copy for Windows PC, you can synchronize the Windows Clipboard between computers, Android, and iPhone devices easily.
Before downloading and using, you should know that you need to create an account. That account will be used to keep your texts or links. You can use this account on any device where you want to send the text or link.
To start using this clipboard software, you need to download it from the official website. After the installation process is complete, you need to enter your account details.
Whenever you copy some text or link, you will find a Got It or Clip Saved message on your screen. However, the lack of that message indicates the failure of fetching the clipboard. If you have got the message, but still the text is not showing in the app, you should check if you have a valid internet connection. You may have to wait for a few seconds for the text to appear in Magic Copy after copying the text.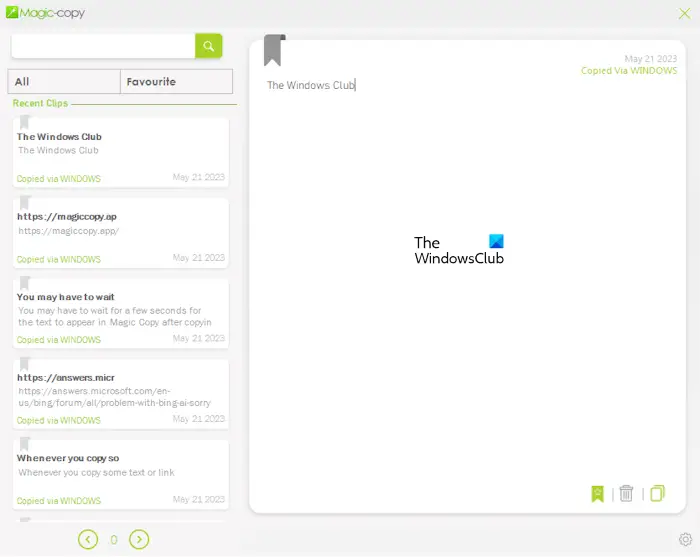 The Magic Copy app appears on the right side of your computer screen. All the copied texts will appear there. It also displays the source from where you copied the text for each text. For example, if you copy the text from an Android phone, you will see Copied via ANDROID.
You can also bookmark or delete a particular text from its history. To do so, click on the three horizontal dots. The search option is also available. You can use it to search for specific text in the clipboard history.
Its free version has some limitations, such as:
You can keep up to 10 clip history.
You can sync clipboard data only between 2 devices.
No usage analytics are available in its free version.
If you like, you can download Magic Copy app from here.
How do I copy my clipboard to another computer?

You can easily copy your clipboard data to another computer by using third-party software, But if you do not want to install third-party software, you can use the built-in feature in Windows 11/10. Open Windows Settings and search for Clipboard. Now, turn on the Sync across your devices option.
How do I sync my Android and PC clipboard?
You can sync your clipboard history between your PC and Android devices by using a third-party app. There are many free apps available on the internet for this purpose. Some of thee may have limitations in the free plans but they are good for personal use.
In case you do not like this app, you can always use Cloud Clipboard in Windows 10, which is a native tool to synchronize the clipboard across multiple devices.
That's it.