Surface Pro X is the new 2-in-1 that will boost up the mobility factor of the Surface devices. One of the highlighting features of this device is that it is being powered by a processor based on the ARM architecture. There are many other factors that make up the overall goodness of the device. We got a chance at handling the device and are presenting our review of the same.
Microsoft Surface Pro X review
In this hands-on Surface Pro X review, we will be covering the following aspects:
Specifications.
Performance.
New Surface Pen and Type Cover.
New Design.
ARM compatibility.
Ports.
The Verdict.
1] Surface Pro X specifications
The Surface Pro X runs on Windows 10. It has a 13-inch Pixel Sense Display with a resolution of 2880×1920.
Ditching the Intel CPU for this product, Microsoft has developed its own CPU in collaboration with Qualcomm called Microsoft SQ1. 
The Adreno 685 handles all the graphics processing for the device.
The device comes in two variants of 8 Gigabytes and 16 Gigabytes and inbuilt SSD storage of either 128 GB, 256 GB or 512 GB.
Microsoft is claiming a battery life of about 13 hours in a single full charge given the power efficiency of CPUs made on the ARM architecture.
The device is of 287 mm x 208 mm x 7.3mm in dimensions and weighs around 774 grams.
2] Performance of Surface Pro X
As already mentioned already, this device runs on the Microsoft SQ1 chip based on the ARM architecture. Hence, it brings in features like a Fast startup, LTE and more. The SQ1 is the first processor based on ARM on a PC that is clocked at 3 GHz.
The Adreno 685 Graphics Processing Unit offers some very light gaming.
Surface Pro X also comes with 2 Teraflops of Graphics Processing Power. There is no compromise of functionalities as it also supports full speed for high performance of other peripherals like SSDs.
Read: Surface Pro 7 review.
3] New Surface Pen and Type Cover
Microsoft has changed slightly, the design of the Surface Pen and the Type Cover. The Pen and the Type cover now complement each other.
The new Surface Pen is now rechargeable and can be tucked in securely in the Type cover itself. It no longer sports the cylindrical design from the older generations.
Microsoft claims that this design is better suited for artists, but I found it just about average to handle. People might need some time to get used to this new design.
4] Surface Pro X gets a new design
The design has been changed slightly. It was designed from the ground up for a processor based on ARM architecture. This has made the device very thin overall. This thinner design is a result of the fanless design that came to life with the ARM processor.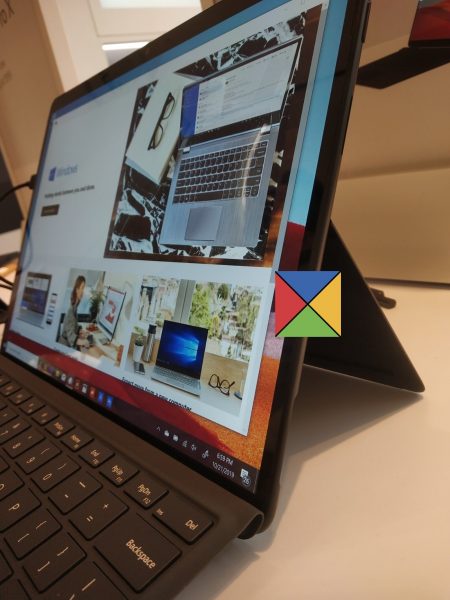 The principal design for the device remains great with the kickstand which allows you to place the device in any orientation.
5] ARM compatibility on Surface Pro X
The unit that I got my hands-on was running Windows 10 Home. It was running the 64-bit version of the operating system. It is worth noting that this device will support 32-bit applications, but will not support the 64-bit applications. This is applicable even if it is running the 64-bit version of the operating system. This comes as no surprise, and Microsoft is still working in the background to bridge this gap. Emulation can become the best way to fill this gap and increase the scope of applications that work with this device.
6] Ports on Surface Pro X
After years of rumors, USB Type C has finally come to the Surface Pro devices. There are 2 USB Type C ports on this machine. It is not Thunderbolt but can be used for charging and high-speed data transfers. This is also a factor that allowed the thinning of the device.
However, something that you trade-off with this thinning is the removal of the 3.5 mm audio jack. If you want to plug in headphones, you have to use a wireless headphone or the ones that come with USB Type C. This will result in high quality of audio output for the same.
The legendary Surface Connector is still present and has been updated to be Surface Connector Plus and can be used to connect hubs or can be now used for fast charging.
7] Verdict
The verdict is simple and straightforward. If you want to use this device for heavy tasks like playing heavy games, rendering videos, or large data visualization, then this device is not for you. But if you want to run some light programs, browse the web, play movies or music, create documents and spreadsheets, then this device is perfect for you. Adobe Photoshop has been tested on this device and found to run well.
If you are an executive who is always on the go and has to do some light programming or work on presentations, then with the power of LTE and all-day battery life, you can complete all your work on a single charge, wherever you are.
https://www.youtube.com/watch?v=v5SFBpMiaiQ
Some of the Pros of this device are:
Fast Charging.
All-day battery life.
Slimmer design with thin bezels.
Powerful CPU.
Redesigned type cover to match the device.
Universal ports of USB Type C.
Some of the Cons of this device are:
Removal of the 3.5 mm jack.
Expensive Surface Pen and the Type Cover.
Reliance on hubs for plugging in USB A and Ethernet.
It could have been a little cheaper.
The device will be available for purchase in November at the Microsoft Store and other partners and starts at $999. However, you can preorder it right now at the Microsoft Store.
Also read: Surface Laptop 3 review | Surface Pro 7 review.