If you wish to install and deploy Surface Pro devices in your organization, then Microsoft has come up with a complete guide on how to explore, plan for, deploy, manage and support these devices. Here is a step-by-step guide that will help you manage all Surface Pro devices.
Technical guide to deploy Surface Pro devices


Surface Pro has the ability to replace a laptop. And the reason? It has so many features which are generally expected from a laptop. For starters, Surface Pro 3 has a 12-inch ClearType Full HD display, an Intel Core processor, and up to 8 GB of RAM. Its battery can last for nine hours while you are browsing the web.
Explore: The process of setting up the devices begins with exploring the device itself. First of all download the drivers for all of the components in Surface Pro 3, Surface Pro 2, and Surface Pro devices, as well as updates to the system firmware that have been released via Windows Update. You can download the latest Surface Pro drivers, firmware, software from Microsoft.
Surface lets you select the best practice to deploy Windows on Surface Pro devices. You can download the 'Deployment and Administration Guide'. You can explore various options for the deployment and informative links in it.
Plan: You can take the help of this link on Microsoft.com to plan your deployment. There are several links included in this section that will help you in this task. You can begin by exploring the deployment concepts. Here, you can learn the Windows deployment strategy, how to build a better desktop image, how to get started with application compatibility, and what are Windows upgrade and migration considerations.
In this section, you can also learn how to jump-start and plan the Windows 11 or Windows 10 deployment. Microsoft has provided a Microsoft Deployment Toolkit (MDT) which will help you in this task. Learn how to get started with the User State Migration Tool or USMT.
Besides this, the Plan section will help you in preparing the end users by providing Windows User Readiness Toolkit.
Deploy: This is where the actual process of deployment of the Surface Pro devices is explained. There are several links where you can download various deployment tools. This section also has step-by-step deployment guidance. Look for the Surface Pro deployment considerations. If you are going to deploy Surface Pro and Surface Pro 3 devices, then this section also has the quick start guide which you can use.
Manage: Get a complete guide on how to manage the devices after they are deployed. There are separate links for managing various Surface devices.
Support: You can search the Microsoft knowledge base or even contact the surface support at this stage. Some of the calls to submit an incidence may be chargeable.
Surface Book and Surface Pro User Guides
Need help using your new Surface Book or Surface Pro? Well Microsoft has released User Guides for these two new products and they are now available for download from the Microsoft Download Center. These guides are usually unavailable in the product packaging and need to be downloaded separately by the user.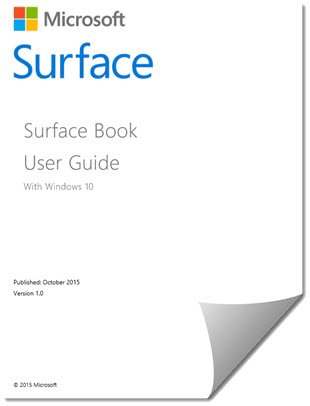 Surface Book is the new ultra-thin, high-performance Windows 10 laptop with exceptional power and versatility. Surface Book is the fastest laptop ever created that weighs slightly over 3 pounds and has a 13-inch screen. The software giant claims that Surface Book is two times faster than Apple's MacBook Pro – and will change the way laptops will be made in future.
Surface Pro is a 12.3 inch Windows 10 device with a slim bezel, attractive looks and improved specifications.  It weighs just 1.69lbs which is equal to 766 grams. Powered with 6th Gen Intel Core m3, i5 and i7 processors Surface Pro 4 is a powerful device and lets you run multiple programs at a time.
Both the guides broadly cover the following topics:
Features of Surface
The basics
Keyboard Shortcuts on Surface
Surface Pen
Storage options
Surface Audio Features
Accessibility, Personalization
Clean and Care, simple maintenance
Registration, repair and warranty
Apps and the Windows Store
Audio, Camera features
And much more!
These guides comes handy when you are looking for keyboard shortcuts and few other settings. These guides are also good to read for maintenance of your Surface Book or Surface Pro 4. Whether a novice or an expert, this guide can definitely help you solve some problems.
Click here to download Surface Book user guide. Go here to download the Surface Pro user guide.
Hope you find this post useful.