Only watching movies with subtitles can be irritating as you don't want to mishear any words or miss out on dialogue. However, one common issue many Chromecast users face is subtitles not showing when casting VLC to Chromecast. So, if you are facing the same error and trying to find a workaround, you can try the following fixes.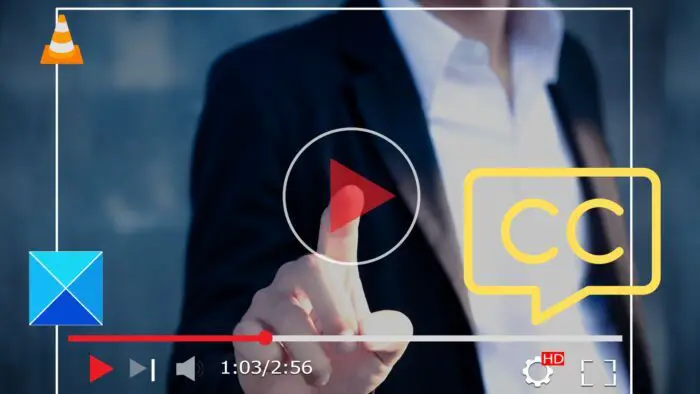 Does Chromecast support subtitles?
Chromecast casting does support subtitles. However, it depends on the casting media. Many popular streaming apps like Netflix, YouTube, and others offer subtitle support for Chromecast casting.
However, if you are using media players like VLC, then subtitles support for Chromecast casting won't work. Since the supported subtitles formats for Chromecast are limited.
It only supports subtitle formats and closed captions like TTML – Timed Text Markup Language, WebVTT – Web Video Text Tracks, CEA-608/708.
Fix Subtitles not showing when casting VLC to Chromecast
There are a few ways to fix the issue when subtitles do not show when casting VLC to Chromecast. These fixes are:
Adjust subtitles settings in VLC
Embed subtitles to video permanently using HandBreak
Use another media player
Check each method and pick a solution based on your comfort level.
1] Adjust subtitles settings in VLC
Before you go ahead and make any changes, make sure that your subtitle file is not empty or in zip format. You can consider downloading another copy of the subtitle just to be sure.
Also, rename your subtitle file to match the video file and place the media and subtitle files in the same folder. Ensure that subtitle is enabled in VLC by going to Subtitles > Sub track. Additionally, confirm that your subtitle file is in .srt and .sub formats. As these two are compatible with Chromecast.
In case all these above settings and configurations are in place and you are still having trouble streaming media with subtitles via VLC to Chromecast, then follow the below steps:
First, update VLC to the latest version and ensure your computer and Chromecast are on the same WiFi network.
Next, launch VLC and select Playback > Renderer > Select Chromecast device.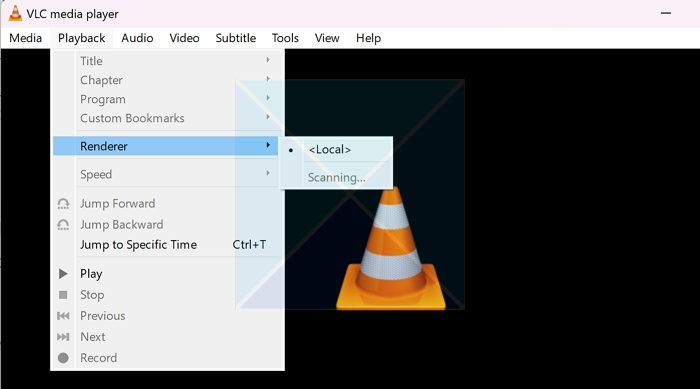 Now, the VLC media player will stream the media on your TV.
While configuring VLC to Chromecast, you might get an Insecure site warning. To fix this, Choose the View certificate option and select Accept Permanently.
Read: How to change subtitle position in VLC
2] Embed subtitle to video permanently using HandBreak
Another thing that you can do is embed the subtitle to your video permanently using HandBreak. HandBrake is a popular open-source video transcoder software that allows you to convert video files from one to another.
It is free to download and use and can embed subtitles to your videos permanently. To use it, follow the below steps:
First, download Handbreak from it's official website.
Then, install the software following all the onscreen steps. You might also have to download Microsoft Windows desktop runtime.
Once installed, launch HandBrake, click on File, and select your video file.
Next, go to the Subtitle tab, click on Tracks > Import subtitle, and select your subtitle.
After that, make sure to tick the Burn In option. So, the subtitle will get hardcoded into the video and cannot be turned off.
After that, click on Add to Queue and wait for the process to be completed.
Once done, Chromecast the video via VLC and see if it resolves the issue.
Read: How to Transcode a Video in Windows
3] Use Videostream
Instead of using VLC as your media player, you can try Videostream. It offers the easiest way to stream videos from your computer to Chromecast or Android TV. Using the app is super easy and requires no setup. Also, yes, the app is free to download and use.
To get started, follow these steps:
First, download Videostream from getvideostream.com and install it
Next, launch Videostream, and it will be opened via your browser.
After that, click on the Cast icon from the top left and select your Chromecast device.
Finally, click on Choose a video and select your video to start casting it on your Chromecast.
So those were a few workarounds and fixes for the subtitles not showing when casting VLC to Chromecast error. To prevent this error, make sure you are using a compatible subtitle format, or you can hardcode the subtitle file into your video.
Why are my subtitles not showing?
Subtitles must be accurately written and precisely formatted. Extra dashes or spaces within coding lines – sequence and timing indicators – can corrupt an SRT file, causing overlaps, display errors, or preventing subtitles from functioning.