If you are a regular Windows user and quite often use it to store hundreds of thousands of photos then, chances are you access them mainly via Thumbnail view. Other views like Details, List, and Icon seem to appear quite inappropriate and irrelevant for pictures. What if the thumbnail cache seems to destroy itself periodically? It can be infuriating. If your Windows 11/10 Thumbnail cache keeps deleting itself, using this registry trick, you can stop Windows 11/10 from auto-deleting the Thumbnail cache after every restart.
Stop Windows 11/10 from deleting Thumbnail cache
The cause could be a task in Automatic Maintenance called SilentCleanup – this could be causing the thumbnails to disappear each time you boot. So, all you need to do to eliminate this problem is to stop the task from running.
Please note that the method requires you to make modifications in the registry settings. As such, exercise extreme caution before proceeding any further.
Open the 'Run' dialog box, type 'regedit' and hit the 'Enter' key.
Then, navigate to the following key-
HKEY_LOCAL_MACHINE\SOFTWARE\Microsoft\Windows\CurrentVersion\Explorer\VolumeCaches\Thumbnail Cache
Here, if you notice that the entries are for Disk Cleanup with an Autorun DWORD value set to "1", it means SilentCleanup' feature is "ON" and allows autorun to delete the thumbnail cache.
To undo this change, simply right-click on Autorun and choose "Modify" option as shown in the screenshot below.
Under the box, change the value from "1" to "0" which indicates "OFF".
Similarly, locate the following entry in the Registry editor
HKEY_LOCAL_MACHINE\SOFTWARE\WOW6432Node\Microsoft\Windows\CurrentVersion\Explorer\VolumeCaches\Thumbnail Cache
There, if you notice again that most of the entries are for Disk Cleanup with Autorun having a value set to "1" which is "ON", change it to "0" which is "OFF".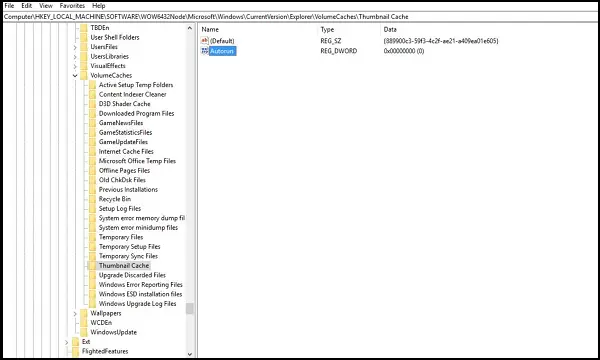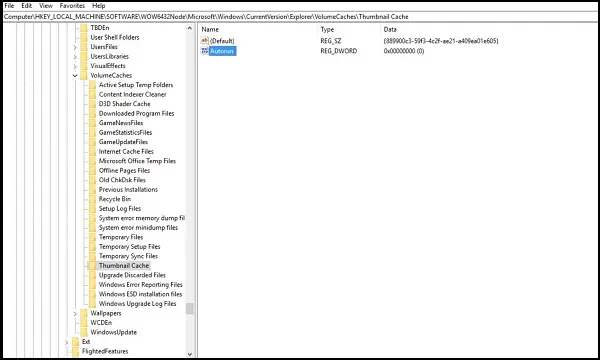 That's it!
You have stopped Windows 10 from automatically deleting the Thumbnail cache on reboot. Just close the Registry Editor and restart your PC to allow the changes to take effect.
Thumbnails are intended to make the process of navigation in File Explorer a lot easier by virtually offering a miniature view of every type of file, be it photos, videos, or any document files. Annoyances, such as this can undermine your Windows experience.