Twitter is one of the most popular social media platforms that let you share short posts called tweets. By default, a newly created Twitter account is public. And therefore when you Tweet your post, it has the ability to be viewed by up to millions of active users. Undoubtedly, this feature might be useful for most of the users but not for all random people.
Many people sign up a Twitter account just to communicate with their beloved ones like friends and family. Minding its own privacy and safety, they prefer to keep their tweet protected. If you're also using Twitter with the same purpose, you might need to stop people from following you on Twitter.
Stop People from Following you on Twitter
If you're going to set your Twitter account Protected, it means you are telling Twitter that any person can follow you only after your approval. Also, your tweets would only be visible to those people who follow you.
To do this, you first need to visit the Home page of your Twitter account.
In the left sidebar, click on the More button (three dots) and select Settings and privacy from the pop-up menu.
On your Settings page, click on the Privacy and safety to view a wide range of available options.
Now, to make your account private, mark the checkbox that says Protect your Tweets.
At this time, a pop-up menu appears and asks your consent to protect the account.
In order to assign your approval, click on the Protected button.
Once you make your selection, only your existing followers can read your Tweets and can communicate with you.
Also, each time you'll get a request when a new person wants to follow you.
After that, you can accept or reject their request as per your requirement.
That way you can stop people from following you on Twitter
But what about those people who had already been followed before securing your account? How can you make them unfollow you from your Twitter account?
Well, still there is no such official method to remove someone or make them unfollow from the Twitter account.
However, there is a way that you can use to remove followers on Twitter without knowing them.
And since you have already made your account private therefore once you succeed in removing them, they would not be able to follow you back again. So, let's get started.
How to make someone unfollow you from your Twitter account
In order to make people unfollow, navigate to the official webpage of your Twitter account.
Once it opens, tap your profile image to open your Twitter profile.
Select the Followers option to open the list of such people who follow you.
From the Followers list, select the account of that person whom you have to make unfollow.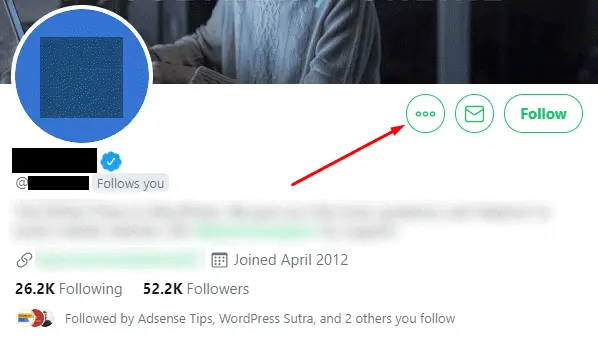 In the profile area, click on the ellipsis (three dots) and select the Block option.
At this time, a warning message may pop-up on the screen, click on the Block button again.
Likewise, you can also block other contacts whom you don't want to keep in your Followers list.
Once you block those accounts, they won't be able to follow you again or see your Tweets. But keep in mind that you will also not able to see their contents or notifications from the next time.
To unblock them, simply open their profile and click on the Unblock button. On prompting the pop-up menu, again click on the Unblock button.
It will show you their Tweets and other notifications and also keep maintain the unfollow action made by the previous block.
The removed accounts will only notice they've unfollowed you in an enigmatic way and nothing more. They will not know that they were also blocked for a while.
That's it.