If you unknowingly leave settings of some specific apps enabled, Windows 10 might trouble you with unwanted notifications. Certain websites like AccuWeather may show popups in browsers like Chrome without warning. Read the instructions in the post to know how to stop the AccuWeather pop-ups in Chrome.
Remove new AccuWeather popups in Chrome
The pop-up prompts the user to click through it and view weather-related information. This can be useful if you are planning an outdoor trip but quite annoying when you have your focus on something more important.
Launch Chrome.
Choose Customize and control Google Chrome.
Select
Choose Privacy and security > Site Settings.
Scroll down to Notifications.
Under Allow section, select AccuWeather > Remove or (much better).
Most of the unwanted notifications can be controlled easily via Apps & features option in Windows. However, if you cannot find the entry for the AccuWeather app there, follow the method described below.
Launch Google Chrome browser.
Open a new tab and click Customize and control Google Chrome icon (visible as 3 horizontal dots in the upper right corner of the screen).
Next, from the list of options displayed, choose Settings.
When directed to the Settings page, choose Privacy and security settings from the left sidebar. Go to Site Settings, click the side-arrow to expand its menu.
Switch to the right pane of View Permission and data stored across sites and scroll down to Notifications options under Permissions.
Click the side-arrow to open a new page. Here check if the option for 'Sites can ask to send notifications' is enabled.
If yes, scroll down to the Allow section, look for AccuWeather website entry.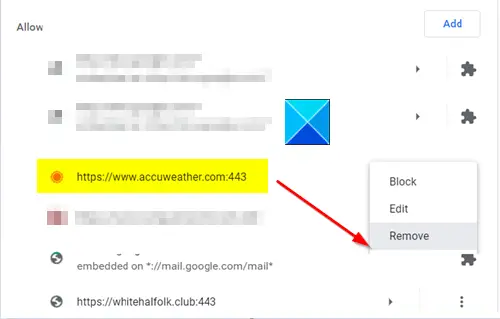 When seen, click More actions button (visible as 3 vertical dots adjacent to the entry). Select Block or Remove option.
Now that you have removed the entry, go to the start of the page and turn off Sites can ask to send notifications.
Hereafter, you should not see bothering AccuWeather Notifications again.
I hope this helps.