If the background image in the new tab of the Edge browser is ruining your concentration or not allowing you to focus on the items there on the screen, disable the experience. Here's how you can stop Edge from showing Image or Video of the Day.
Stop Edge from showing the Image or Video of the Day
Edge image or video of the day makes the browser's background look more animated and livelier but it takes up full screen to play video or display an image at the start of a new browsing session. Some users prefer to keep the background of the tab plain and simple. Follow along to find how to disable this feature completely.
Launch the Edge browser.
Open a new tab.
Open Page Settings.
Expand the Custom tab.
Uncheck Image or video of the day option.
Edge already allows users to choose between a Bing image of the day, a custom image, or not having an image appear at all. This new customization option does the same for the new tab page in Edge browser by helping users spruce up the homepage with a video experience.
Launch the Edge browser. Make sure you are running the latest version of the Edge browser (97 or higher).
Tap the '+' icon next to the currently opened tab to open a new tab in the browser. Click the Page Settings icon (visible as the cogwheel icon in the upper right corner of the web page).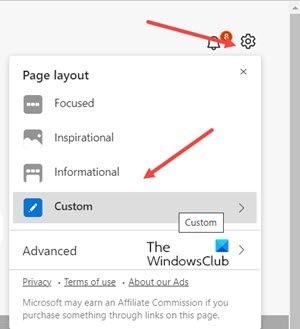 From the list of options displayed, select the Custom tab.
Scroll down to the Background section. Under it look for the Image or video of the day option.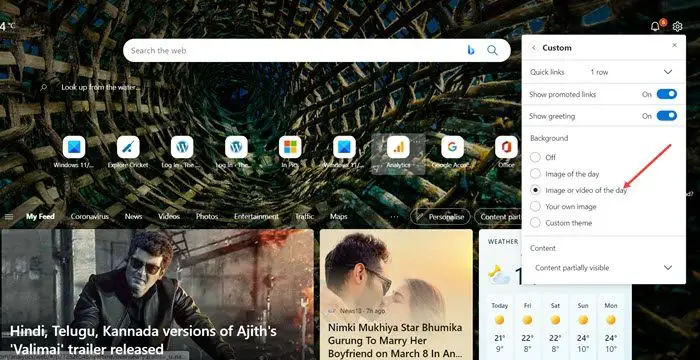 When found, simply uncheck the box next to the option to disable the image or video of the day feature completely.
Read next: How to disable Image Background types for Edge New Tab page using the Registry or Group Policy Editor.
What is the Microsoft Photo of the Day?
It's a feature that adds a new photo of the day, every day! That way you explore the world through your own tablet or computer screen. Every photo includes a short, interesting caption and a link to the photographer.
Does Microsoft Edge have themes?
Yes, and you can create your own custom theme to change the look and feel of your browser and create a beautiful and immersive visual experience. Besides, you can also use them to distinguish between different profiles (home, school, or work accounts)