Some Steam users on Windows 11 or Windows 10 computer might be experiencing the issue whereby Steam is not signing into Friends on their device, consequently preventing Steam users from playing with friends or the people they know. If you're in a similar situation, you can try the solutions provided in this post to resolve the issue.
Steam signed out of Friends and Chat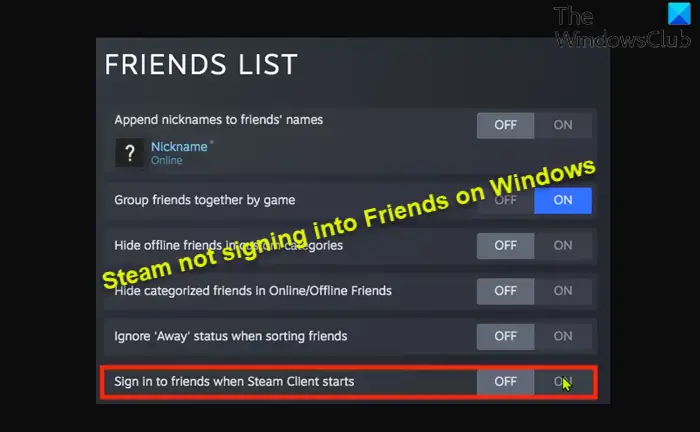 Steam not signing in to Friends on PC
If Steam has automatically signed out of Friends tab, then here's how to stay signed in to Friends List when the Steam client starts;
Restart Internet device (router/modem)
Enable Automatic Friends Sign-In
Disable Offline Mode
Check Steam Server status
Fix Steam Server connection issue
Turn off Network Adapter Power Saving mode
Let's take a look at the description of the process involved concerning each of the listed solutions.
1] Restart Internet device (router/modem)
You can begin troubleshooting the Steam not signing into Friends issue on your Windows 11/10 PC by giving your router or modem a quick restart, and then make sure you're not having any internet connectivity issues on your gaming computer. You may also have to restart your PC.
2] Enable Automatic Friends Sign-In
To enable the automatic Friends Sign-In option in Steam on your Windows device, do the following:
Click on the Steam Menu > Friends > View Friends List.
In the Friends Menu, go to Settings.
Now, click the ON button for the Sign in to friends when Steam Client Starts option.
Close the window to validate the new settings.
If the issue is unresolved, try the next solution.
3] Disable Offline Mode
Some PC gamers on Steam can simply enable the Offline Mode if they just want to play games offline (without their friends seeing) by hiding game activity, or just don't want to download new updates. The Offline mode is quite convenient if you focus on single-player games. Once enabled, players can seamlessly launch their games without having to connect to the Steam network each time. However, if this Offline Mode is enabled, you may experience the issue at hand. In this case, you can disable the Offline Mode which is the same as unhiding your game activity on Steam to fix the issue.
4] Check Steam Server status
This solution requires you to check the Steam Server status. If the server status indicates some or all services are offline or not available, your only option is to wait it out for the servers to be back online. Once that happens, you check and see if Steam can now sign into Friends. If not, proceed with the next solution.
5] Fix Steam Server connection issue
Following you checking the Steam server status and confirming that the server is up and all services are running, you can use our guide on Steam is having trouble connecting to Steam servers to troubleshoot further and see if that helps. Otherwise, try the next solution.
6] Turn off Network Adapter Power Saving mode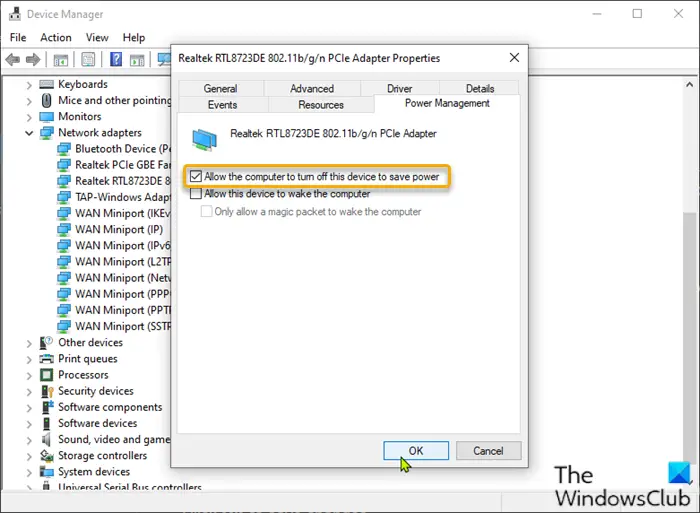 To turn off the network adapter Power Saving mode on your Windows 11/10 PC, do the following:
Press Windows key + X to open the Power User Menu.
Tap M key on the keyboard to open Device Manager.
Once you're inside Device Manager, scroll down through the list of installed devices and expand the Network adapters section.
Next, double-click your network adapter to edit its properties.
In the Properties sheet, click Power Management tab.
Click OK to save changes.
Exit Device Manager.
Restart PC.
On boot, the issue should be resolved.
Hope this helps!
Why does Steam voice chat not work?
You may experience the issue whereby the Steam voice chat is not working on your Windows 11/10 PC due to either the current Steam account is actively being used on a different computer or the built-in Windows Audio Enhancements feature is glitching the microphone. A simple fix you can try is to open Steam settings. In settings, click on Broadcasting tab, then check the Record my Microphone option. Next, check the Broadcasting option and then select Record my Microphone button.
Why is my Steam Friends List not working?
There are quite a number of reasons why Steam Friends List is not working on your Windows 11/10 gaming PC – the main reason being your Firewall, as it could be preventing the application from working properly. In this case, you should try to whitelist Steam and also make sure the app is allowed through the firewall.
Can people see me on Steam if I'm invisible?
PC gamers on Steam can hide Gameplay Activity from Steam Chat. To do so, launch the Steam client on your Windows PC, click the Friends and Chat option in Steam, click your username, and select Offline or Invisible. Once done, your friends won't be able to see what you're playing currently, although this information will still appear on your profile page.
Related post: Fix Error adding Friend on Steam.