If your Windows computer update section displays a message after you sign-in— We removed some recently installed updates to recover your device from a startup failure, then its because your Windows 10 device has recently recovered from a startup failure. This happens when there is a hardware issue, file corruption, or incompatible 3rd party software. In this post, I will show how you can resolve this problem and manually install drivers and updates.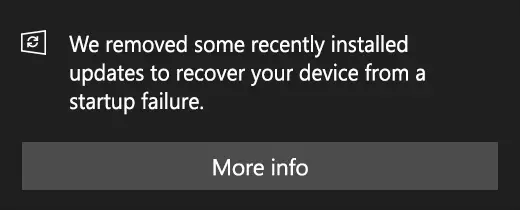 We removed some recently installed updates to recover your device from a startup failure
Why does the Windows Update system choose to remove some of the installed updates?
During a startup, If Windows detects that it was not successful, then it starts troubleshooting on its own. It will resolve failures due to disk issues, system file corruption, invalid registry keys, or other such causes. If the automated troubleshooting is unsuccessful and the machine does not startup successfully, then Windows will determine if the startup issue was introduced after a recent driver or quality updates were installed. If that's the case, then those updates will be uninstalled automatically so Windows can get back to the working state.
If removing updates and drives makes Windows start normally, then it takes another precautionary measure. Windows will prevent the removed updates from installing automatically for the next 30 days. Since Microsoft sends back diagnostic data for such failures, it gives Microsoft and partners the opportunity to investigate the failure and resolve any issues. After 30 days, if the updates are still applicable, Windows will try to install them again.
How to manually install Windows updates and drivers
When manually installing quality updates and drives, make sure to do it one at a time. It gives you a chance to figure out a particular update that was causing the problem. If your device is unable to start up properly after automatic or manual installation of these updates, Windows will uninstall them again automatically.
1] Advanced manual installation
To install quality updates:
Search for updates from the Windows Update Catalog
Download and install the update.
2] Update drivers in Windows 10
If you believe that you have the right set of drivers, and they work fine, then we suggest you install or update the driver manually.
Both these methods will make sure to help you install the updates which were forcefully removed by Windows Update.