You can be distant apart and still enjoy watching movies together. Thanks to Amazon Prime Video Watch Party, a feature that lets you and others watch videos together in more virtual space. Here's how Windows users can take advantage of it.
Host Amazon Prime Video Watch Party on Windows PC
By hosting Amazon Prime Video Watch Party on Windows, you can chat with up to 100 friends while streaming TV shows online together. The experience is almost like watching side-by-side in real life with one major benefit of not having to share your popcorn. Let's get started!
Log in to your Amazon Prime account.
Navigate to the show you would like to watch.
Hit the Watch Party button.
Give your screen a desired name.
Click the Create Watch Party button.
Copy and paste the link or share it through social media or email to invite more people.
Start chatting and watching together.
It is important to note here that each member of your Watch Party must have a valid Amazon Prime subscription. Also, the service may not necessarily be available in all regions.
First things first, log into your Amazon Prime account and navigate to the show or movie you would like to watch with your friends.
Once there, click the Watch Party icon, just adjacent to the Play and Add button.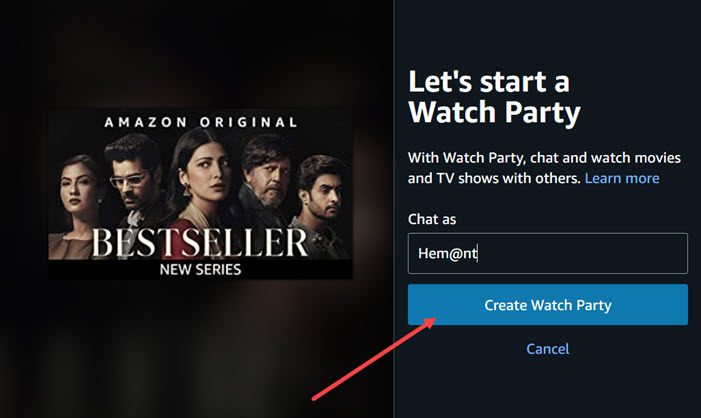 Next, under the Let's start a Watch Party, enter a chat name, and hit the Create Watch Party button.
When done, hit the Copy button and share the link with your friends via Facebook Messenger or WhatsApp.
If the people you've invited have an active Amazon Prime subscription, they will be able to join the Watch Party hosted by you, upon clicking the link.
What is a Watch Party?
Watch Party is a new way for people to watch videos together in real-time even when they are not in the same room or are far away. Once a Watch Party is started, participants can watch videos, live or recorded, and chat with each other. You can connect to 100 friends.
Related: How to start & use Facebook Watch Party
Why is my Amazon Watch Party not working?
If you are experiencing problems using the Prime Video Watch Party feature, make sure the participants who are trying to access a Watch Party, are in the same country as the host of the Watch Party. Also, make sure you aren't using any VPN service.
Read next: Netflix Party extensions for Chrome.