All the online typing tutors share one function in common – they increase the typing speed (words per minute). Besides this, they give introductory lessons, teach proper habits, techniques, and posture to use while typing for optimum productivity. There are dozens of them available as freeware tools, but only a few of them produce results.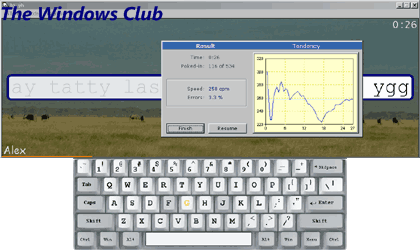 Typing software for adults and kids
Stamina Typing Tutor is an amusing, funny, and user-friendly typing program with a nice interface. It, not only includes a set of exercises that aims to improve upon your typing skills, but also an SOS in the Help section, that guides you where to place the fingers, how to increase the levels in the exercises, and much more.
The funny part comes when you make a typing mistake and you get amusing comments like 'oye', 'uh-oh' and 'I'll be back' when you exit the program.
Another impressive program element is that you can customize the background with your own images. Apart from this, it also includes the scope to replace the old, default editing lessons by your own and newly created ones using its built-in lesson editor. It keeps a track of your progress and displays progress reports timely.
Key Features:
Multiple language support
Inbuilt logic game to make typing a fun-filled experience
Graphical representation of daily progress, informs about the time taken by you to complete a lesson
Timer and a precision clock as well
Includes MP3 songs to entertain you while learning
Allows to enter a text from any external file
In all, Stamina Typing Tutor is an amusing yet multi-functional typing software that helps you to learn and improve the typing speed. It has already received some high praise from its first-time users and therefore establishes itself as an attractive option for novice as well as advanced users too. It works just fine on Windows 7.
Download Stamina Typing Tutor from here.