Skype is one of the most used platforms by many around the world to connect with their colleagues, family, and friends. There are a lot of fantastic features that are introduced in Skype over the years. In this guide, we show you some important Skype features in Windows 11/10 you should be using.
Skype features in Windows 11/10 you should be using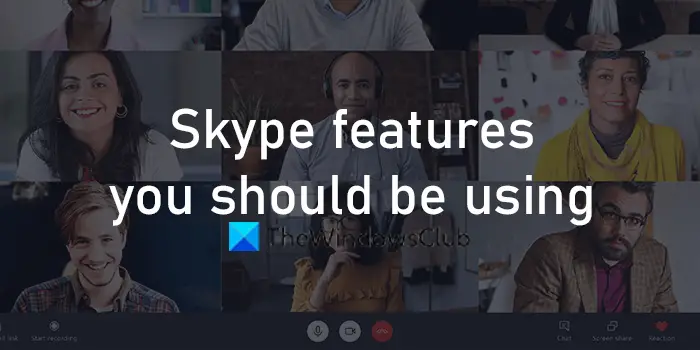 To begin with, Skype doesn't come installed on Windows 11. Microsoft made Microsoft Teams available on Windows 11. You have to manually download and install the latest version of Skype on your PC.
Coming to the features that you should be using on Skype on your Windows 11/10 PC, there are many to help you communicate, interact and spend time with your family, friends, and colleagues digitally through Skype.
The major features that are available on Skype are:
Background Effects on Video calls
Live Translation feature
Share files and location
Call any mobile or landline
Improved Messaging
Let's get into the details of each feature and know them better for our usage.
1] Background Effects on Video calls
Skype offers HD video calls to its users. All you need to have is a good internet connection. In addition to that video calls, Skype also offers background effects. You can blur the background or choose a custom picture as the background for your video calls on Skype.
2] Live Translation feature
The translation feature is one of the best that is introduced in Skype. The Skype Translator can translate anything on video calls, audio calls, and even in text messages. No language is alien for you on Skype with this great feature that translates everything in real-time.
3] Share files and location
On Skype, you can share files up to 300 MB in size by just dropping them onto your conversation. You can share your location, if you want to invite someone and also share presentations, screen, etc on your calls.
4] Call any mobile or landline
Another most important feature of Skype is that you can call anyone from Skype even if the person is not online, or even on a landline. You will be charged normal international calling rates if you use this feature, but a great one if you need to contact someone urgently who is offline.
5] Improve Messaging
You can mention a person on the group messages, react to a particular message with emojis or with a text. You can also customize the emoji panel and remove every emoji you don't want. Skype also offers the searchability feature in the conversations to find a text or file easily without scrolling through the entire conversation.
These are some of the important features on Skype you should be using to make your Skype usage better on Windows 11/10.
You can download the latest version of Skype from its official website.
Why does Skype not work on Windows 11?
There can be various reasons why Skype has stopped working on your Windows 11 computer. Maybe your antivirus is blocking Skype from getting launched or a background program is interfering with Skype. You can check this by entering the Clean Boot state. It is also possible that some of the Skype files have been corrupted, In this case, you can repair Skype or reinstall it.
What is the difference between Skype Desktop and Skype for Windows 10?
Skype Desktop is software that you can install by downloading the exe file from the official website of Skype, whereas Skype for Windows 10 or Skype for Windows 11 is a Microsoft Store app. You can install Skype for Windows from Microsoft Store on your Windows 11/10 system. Both of them have the same features.
Related read: Skype Audio or Microphone not working.