Gmail serves as the default handler for mailto: links. When you open Gmail in Google Chrome browser on a Windows PC, it displays a Protocol handler icon in the omnibox at the top of the page that seeks your permission to Allow Gmail open all email links or This page wants to install a service handler. This is to help set Gmail as the default email program in the web browser to open all email links.

Enable or disable Site Handler requests in Chrome
If you'd like to allow Gmail to open all email links,
Select the Use Gmail radio button. When you click a hyperlinked email address on a page, Gmail's compose window will open.
Select No to keep how your computer opens email links the same way as before.
Choose Ignore to prevent the request from appearing again when you visit Gmail.
Likewise, one can use Google Calendar. Its options are similar to Gmail except, you can choose to use Google Calendar to open webcal links. Service handlers in Chrome are enabled by default. You can disable or re-enable them via the Chrome settings menu. Here's how you do it.
Select the Chrome menu on the browser toolbar
Select Settings
Show advanced settings.
Now in the "Privacy" section, click Content settings.
In the dialog that appears, find the "Handlers" section: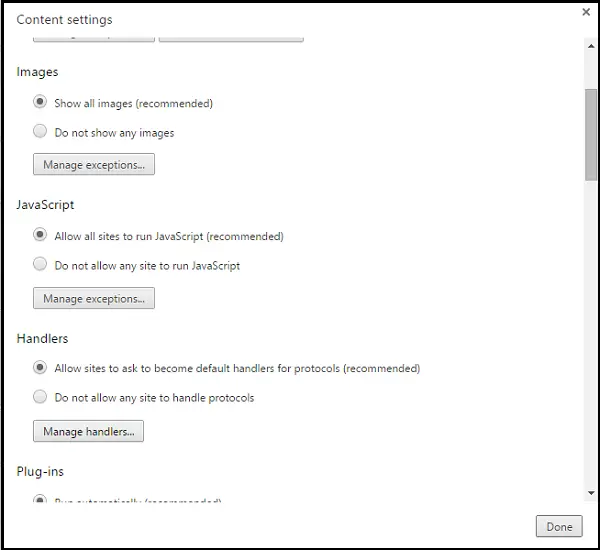 To allow requests, select "Allow sites to ask to become default handlers for protocols."
To disable requests, select "Do not allow any site to handle protocols."
If for some reason you'd like to use a different handler to open a link on a page, right-click the link and select "Open link with" to choose a handler. Your default handler settings won't be affected.
For removing the handler, mouse over the handler you'd like to remove.
Click Remove this site.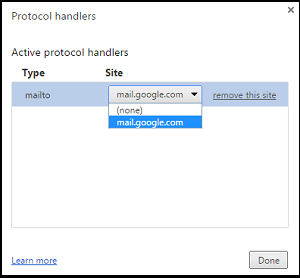 Chrome is a little late to the party. Mozilla's Firefox added support for protocol handlers long ago!
Anyway, hope you find the tip useful.