If you are a Windows user, you might surely have faced the annoying issue of automatic shutdowns or accidental shutdowns of the system, sometimes caused due to Windows Updates. The situation becomes even more irritating when you have some unsaved projects or are undergoing some file conversion, your computer shuts down or reboots and you have to start overall again.  Enter ShutdownGuard!
Prevent Windows from Shutting Down

ShutdownGuard is a free Windows software that prevents your PC from accidentally rebooting, logging off or shutting down without confirmation. The program keeps an icon in the System Tray asking for your permission to continue with the reboot, so that you can save your unsaved programs or postpone the reboot. As soon as you download and install ShutdownGuard in your system, the icon lands in your System Tray and you are protected. So simple isn't it?
When a shutdown process is initiated, the tool gets to work, and you may see a balloon tip notification on the taskbar. Clicking on the alert message will make your computer continue shutting down.
Its advanced settings are stored in ShutdownGuard.ini file located at C:\Program Files\ShutdownGuard\. A small point I did not like, was the 'Options' which is displayed as an .INI file showing the 'Settings' and 'Properties' with simple text.
These settings indeed require much technical know-how. A layman may not be able to adjust the settings like 'Silent Mode', 'Prevent Message', 'Update' and 'Language'. I wish the program had a dedicated screen for 'Settings'.
If its Silent mode is enabled and you have hidden the tray icon, ShutdownGuard will not notify you with the balloon notification, when a shutdown is prevented. You will have to hold the Shift key, when attempting a Shutdown, to make the balloon notification show again.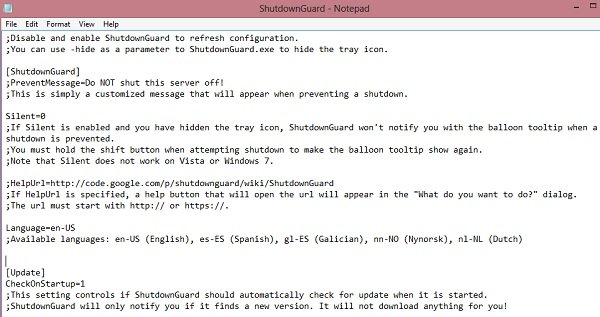 Notwithstanding this, ShutdownGuard is a useful program for Windows users who are annoyed with the accidental or automatic shut down of the system.
ShutdownGuard free download
You can download ShutdownGuard from here. Note that at times, it may still fail as Windows operating system or some software may have the power to override it.