Windows 8.1 allows you to display the Desktop wallpaper as Start Screen background, using the Show my desktop background on Start setting in taskbar and Navigation Properties. But if you find that this setting is greyed out or disabled, one of these suggestions is sure to help you.
Show my desktop background on Start greyed out
To access this setting, right-click the Windows 8.1 taskbar, select Properties, and then click on the Navigation tab. Is your Show my desktop background on Start greyed out? If so then try these suggestions.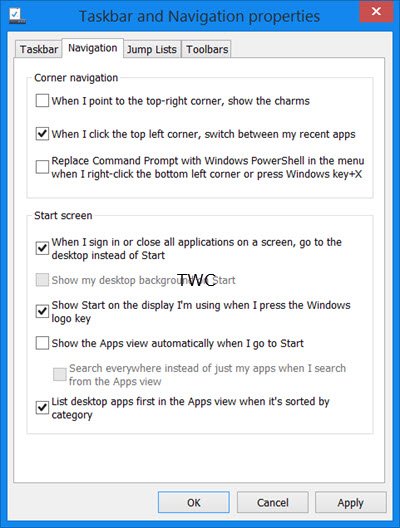 Activate Windows 8.1
First of all, check if your Windows is activated. Because if it is not, then this and many other settings will be unavailable. Even if you had activated Windows earlier, it might be a good idea to reconfirm this.
You can view your Licensing Status and Activation ID of your Windows with slmgr.vbs. If it is not activated, then you will have to activate your Windows copy.
Ensure Show Windows background is enabled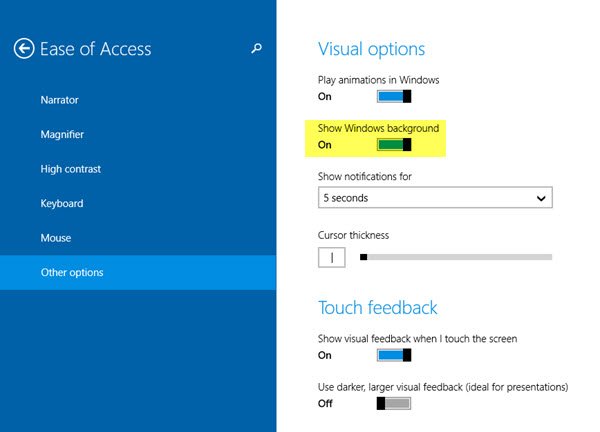 Open PC Settings from the Charms bar > Ease of Options > Other settings. Ensure that the Show Windows background option is enabled,
Edit Windows Registry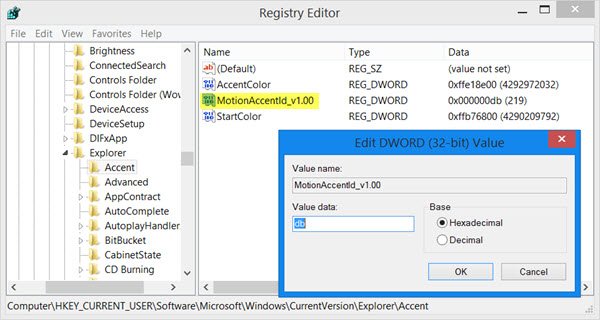 Run regedit to open the Registry Editor and navigate to the following key:
HKEY_CURRENT_USER\Software\Microsoft\Windows\CurrentVersion\Explorer\Accent
Ensure that the value of the DWORD MotionAccentId_v1.00 is set to db in Hexadecimal or 219 in Decimal. If it does not exist, then create it.
There is no Group Policy setting that corresponds to it – unless, of course, one has been specifically added using the Group Policy Management Console – so there is no question of your administrator has disabled this setting using the Local Group Policy Editor.
Let me know if any of these suggestions helped you.
Read this post if you cannot change desktop background in Windows.