Intel SpeedStep allows the processor to adjust its clock speed and voltage based on the task it's performing. However, this dynamic adjustment of the processor's clock speed and voltage is under some inspection. People want to know if they should keep Intel SpeedStep on or off, what exactly is this new feature and more. In this article, we will discuss all those things and show you how to Enable or Disable Intel SpeedStep.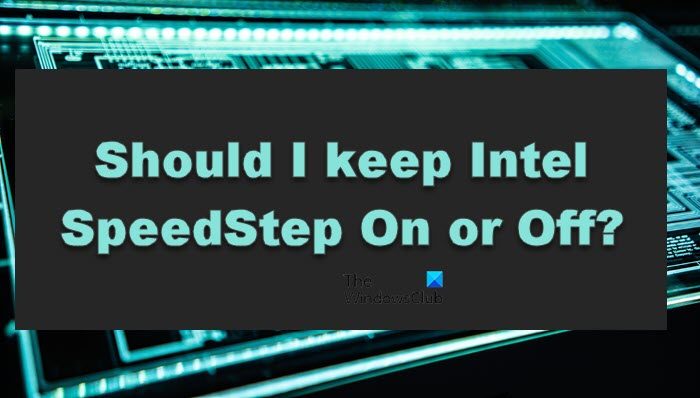 What is Intel SpeedStep?
Intel SpeedStep or Enhanced SpeedStep is a technology built into various Intel microprocessors to select the perfect clock speed and voltage for your processor. There are frequencies and voltage points, and these operational points are called P-State.
When we run our system in high-performance mode, that's when the clock speed of the processor increases; it tends to eat a lot of battery; not just that, it also increases heat consumption. This problem can be resolved by balancing the clock speed of the processor and the battery consumed or heat generated. Intel SpeedStep aims to give users an efficient way to save their power without compromising performance.
Should I keep Intel SpeedStep On or Off?
As mentioned before, the performance of your system depends on three key factors, its clock speed, battery or power consumption, and heat generated. We need to talk about all these factors to solve this dilemma.
Clock Speed of the Processor: When running an intensive game, increasing the clock speed of the processor is recommended. But the caveat is that high clock speed can often damage the CPU and degrade the battery's health.
Power or Battery Consumption: When dealing with batteries, one may want to take into account not just the battery percentage but also its health. Intel SpeedStep helps in both cases, it keeps the clock speed and voltage in check which in turn improves battery performance and manages its health.
Heat Generated: Last but not least, we need to talk about heat generation. Heat is not just bad for your battery but also for your processor. This Intel technology takes care of the heat generated by the processor helping your system in the long run.
After taking everything into consideration, we conclude that under normal circumstances, keeping Intel SpeedStep enabled is beneficial. It doesn't hinder the performance of the system and at the same time, it doesn't degrade the health of the computer. If you turn off Intel SpeedStep, the processor will run faster but consume more power. If you want to conserve power or extend the CPU lifespan of your CPU, it is better to keep it on.
How to Enable or Disable Intel SpeedStep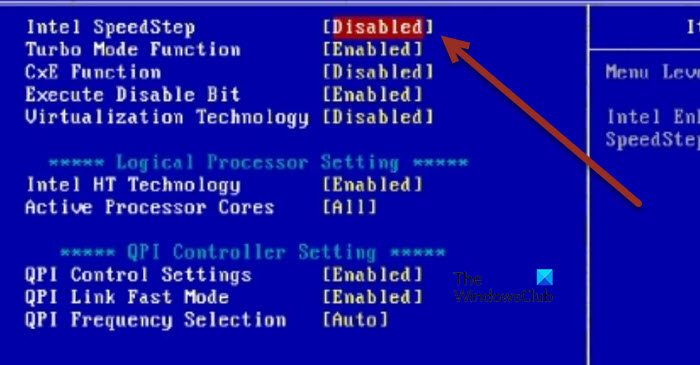 Now that we know why Intel SpeedStep is beneficial, it's time to enable it. Following are the steps you need to follow to do the same.
Boot into the BIOS of your system.
Once the BIOS appears, go to CPU Configuration or Advanced CPU Options tab. Your BIOS screen depends on your OEM.
Next, look for Intel SpeedStep Technology or EIST (Enhanced Intel SpeedStep Technology).
Select Enabled.
Save the changes and come out of the BIOS.
If you do not like Intel SpeedStep, you can pretty easily go to the same settings panel and then disable it from there.
Read: Fix Event ID 55 (Kernel-Processor-Power) error on Windows PC
Should I disable Intel SpeedStep while gaming?
Intel SpeedStep is useful in most scenarios, and useful when playing most games. However, if you are constantly noticing a significant drop in performance when playing the game for a long period, your computer is unable to bear the sustained load. In that case, you can disable SpeedStep. Even though it is not recommended, disabling SpeedStep is totally safe, it won't affect cause any issues.
Also Read: CPU is not running at full speed or capacity in Windows.