One of the key Google skills you should be aware of is how to make a copy of your Google files. Also, if you would like others to access your work, you should know the method to share 'Make a Copy' links to your Google files with them. This article familiarizes you with the process.
Share 'Make a copy' links to your Google files
The steps enlisted in this guide remains more or less the same for all Google applications like:
Google Docs
Google Sheets
Google Slides, etc.
For convenience purposes, we'll be using Google Docs. You'll just need to make a simple change in the link you share.
Open Google Docs
Change the URL and save the Web Address
Allow the recipient to have access to the file
The method can be used to create templates for files, such as Docs proposals, Sheets project plans, Slides pitch decks. Once done, your teammates can quickly copy them.
1] Open Google Docs

Open Google Docs homepage and go to the file you would like to share with someone and enable him to make a copy of it.
Once opened, go to the address bar and right-click on the URL to see 'Copy' option.
When seen, click the option.
Next, open your Gmail account to compose a new message.
Click the 'Compose' button located on the left-side bar menu.
When the message window opens, address (compose the message) the recipient.
2] Change the URL and save the Web Address
Now, in the message body, paste the URL.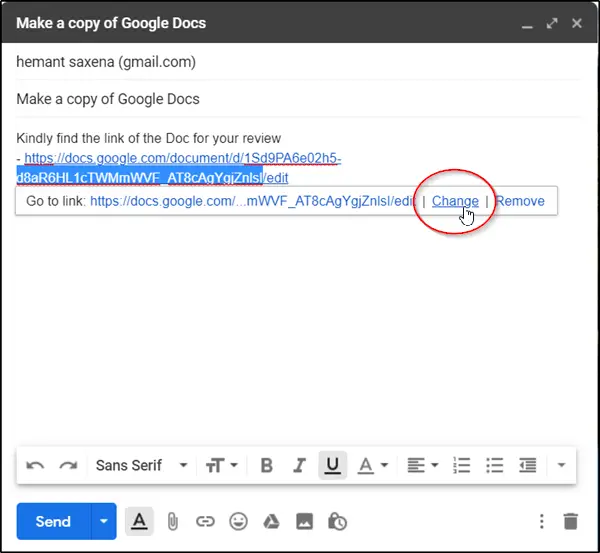 Click the message to bring up the 'More' menu, and then click on 'Change' link.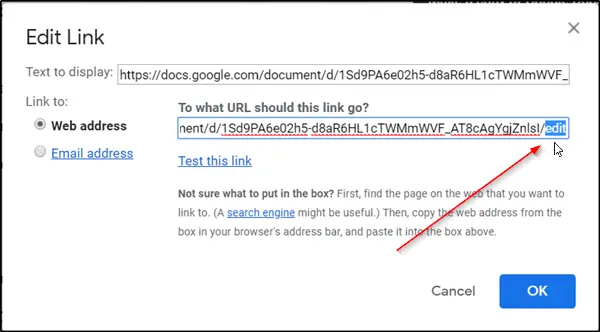 Place the mouse cursor at the very end of the URL and change the 'Edit' option to 'Copy'.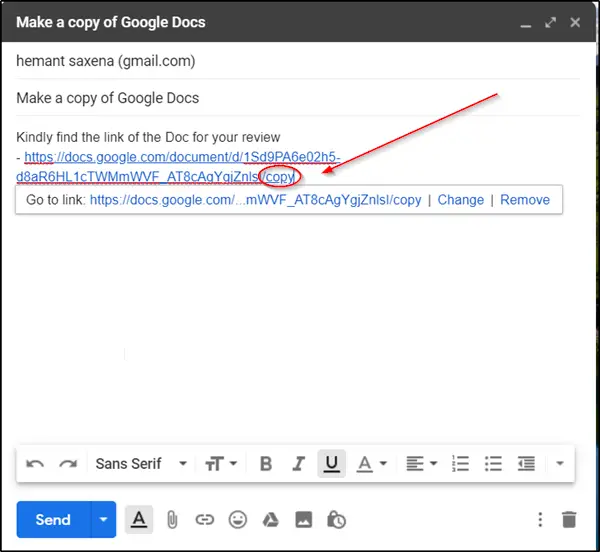 Click 'OK' button visible at the bottom to save the web address.
Once the URL has is edited as desired, choose 'Send'.
3] Allow the recipient to have access to the file
Before the email message is delivered, Google will prompt you to give the recipient access to the file. Verify the permissions and click 'Send' again.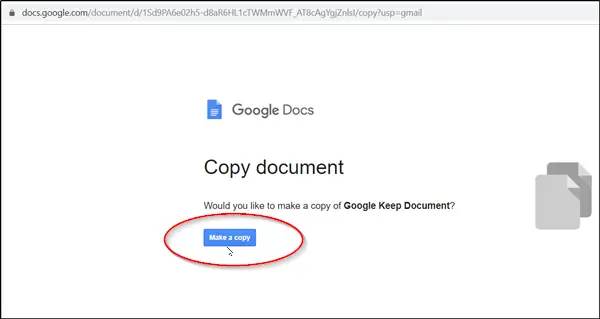 Upon receiving the email message, if the recipient clicks the link, he'll be redirected to a page that lets him make a copy of the file, which can be saved to his/her Drive.
Thus, after completing the above steps in the sequence you can enable your colleagues to create personal copies of your files—such as presentations, reports, or designs and let them make changes to it as per their convenience.