As the gradual transition of classic Windows settings continues, Windows 10 has finally give Sound a special place in the settings. Available under Settings > System > Sound, it offers you to configure output device, troubleshoot, control volume, select input device, mic control, and also offers app volume, device preferences, and options for HMDs.
Set up different Speaker & Microphone for Apps
For different apps you can set different speakers. Change output audio output device & volume per app. This post will show you how to set per-app sound outputs.
App Volume and device preference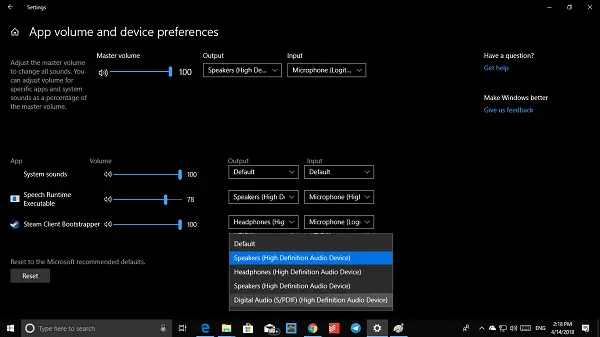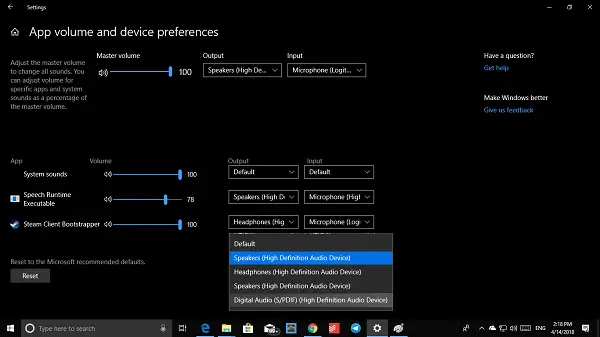 It is possible that some apps use custom output settings, and here you can personalize these in-app volumes using this option.  Use this to adjust the master volume to changes all sounds. You can change the volume of Windows 10 and apps individually.
The best part of this new configuration is that if you want to set different headphone and microphone for a particular app or game, you can choose it right here. You don't have to switch every time you are using them on your PC.
It seems Microsoft has enabled this feature, but developers need to hook their apps here as well. As of now, I don't see many apps here except for the one listed in the image.
HMDs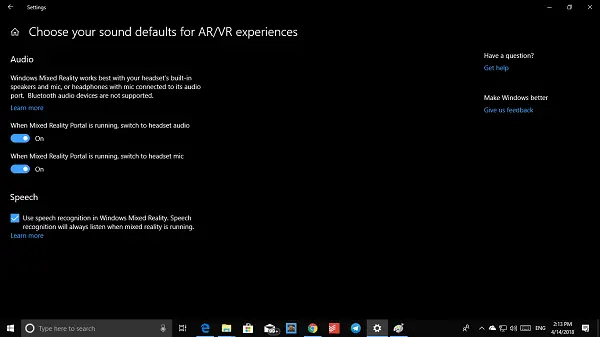 This section lets you choose sound defaults for AR/VR experiences. The default uses the HMD speaker and microphone, and it enables automatically when you connect it to your PC. However, if you want to use your Microphone and Speakers, you can turn off the options for automatic using the toggles for the following:
When Mixed Reality Portal is running, switch to headset audio.
When Mixed Reality Portal is running, switch to a headset mic.
There is an option for Speech as well using which you can make sure Speech recognition even when you are in Windows Mixed Reality
Configure Output Device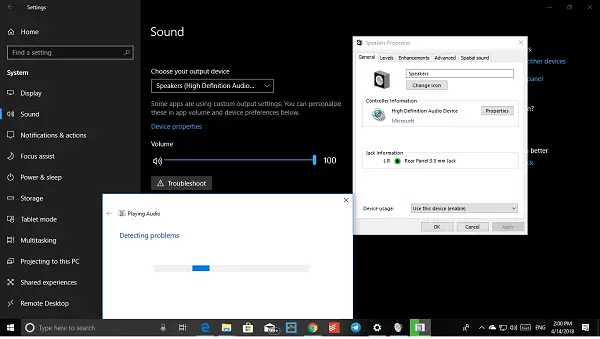 This can be easily done from the Volume icon in the System tray; here you get two additional options. First, you can access the device properties, and second, you can troubleshoot. Click on the device properties, and it will open the class window for that device. It may offer options like options to disable enhancements, select the sample rate, bit depth,  and configure the spatial sound.
Configure Input Device aka Microphone
If you have a webcam with a Microphone or a dedicated microphone attached to your Windows 10 PC, you can set up the microphone and configure it here.
You can switch between them, and also configure device properties. I find Listen to option for Mics very interesting. You can listen to a portable music player or another device through this microphone. However, feedback might appear.
The troubleshoot button makes it easier to figure out the problem, especially if you are using a Microphone on day to day basis, which could be either for writing documents or making voice calls.
Read: How to change default Webcam in Windows 10.