In a blog post dated a couple of days back, Google announced that it will be making some changes to its professional tools suite, Google Workspace, allowing it to be accessed by a much, much wider range of users by essentially making it free for every Gmail user. This may come as a surprise to users who had been using professional Google services like Google Docs and Google Meet for free to date, including me, but the change here is quite subtle.
Google Workspace Individual is now free for all Google users
What it means is that the requirement for a user to have an enterprise profile to get his/her hands on these professional services has now been eliminated. As Google itself quoted in its official release, "all of the company's three billion-plus existing users across consumer, enterprise, and education have access to the full Google Workspace experience."
Google Workspace Individual experience is now available to everyone. The solution provides premium capabilities, including smart booking services, professional video meetings, personalized email marketing and much more on the way. Within their existing Google account, subscribers can easily manage all their personal and professional commitments from one place with access to Google support to get the most out of their solution. you can enable the integrated experience in Google Workspace by turning on Google Chat. Use Rooms in Google Chat as a central place to connect, create and collaborate with others.
In its blogpost, it talked about a new updated Chat service they have in place which is set to replace Google hangouts, and also about the updated Docs, Sheets, Slides, Meet, among other services, its users are going to be able to use. They said that these updated utility features were earlier only available to paying customers. This upgrade, or integration, to be more appropriate, is going to provide Google users with a more professional working experience.
How to enable Google Workspaces for free in Gmail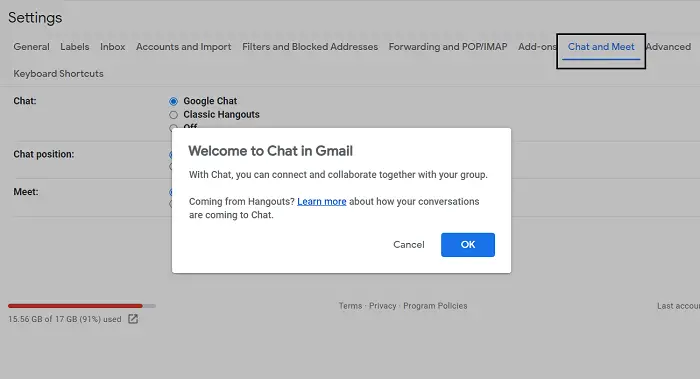 It is almost surprising how easy it is to enable and integrate the free edition of Google Workspaces into your Google account. Here are the steps you need to follow to set up Google Workspace for free in Gmail:
Open Gmail on your computer (obviously, make sure that you have your account logged in).
In the upper right-hand corner, you'll find the settings icon. Click on it.
The first option there says 'See all settings'. Select that.
From the tabs on top, click on Chat and Meet and from the Chat options, select Google Chat.
You will then be presented with a dialog box to confirm this change.
Do so and save your settings.
You now have Google Workspaces set up on your Google Account. Of course, Google hasn't done away with a premium model of its Workspaces suite. If the free version doesn't cut it for you and you're looking for a more premium, advanced Workspace experience, you can get your hands on Workspace Individual.
Google's paid subscription service will be released in a couple of months and only in select demographics (6 countries to begin with) and will come with some really advanced features like advanced booking services and more professional video conferences.
You can read more about the changes with the free Google Workspace and Workspace Individual in the official blog post on Google.com.