In Windows 11/10/8, Microsoft has disabled aero transparency on window borders. In Windows Vista, when aero transparency is enabled, you may notice that this transparency goes away when you maximize the window. Microsoft was at pains to tell that this was performance optimization. In Windows 7, you notice that even maximized windows have this transparency effect – thereby debunking the explanation of 'performance optimization' given earlier during the Vista days.
In Windows 11/10/8, you may have noticed that the window borders and taskbar are opaque and take the hue or color of the wallpaper, provided the default setting of Automatic matching of colors is retained. So if you have a blue wallpaper displayed on your desktop, the taskbar and the windows borders will automatically take a matching bluish color. The window in focus takes this color, while the window/s in the background takes a light grey color.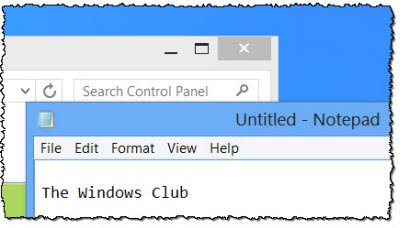 One could earlier select different colors for the windows borders and the taskbar. But you cannot do so now. Personally, I prefer the way it is being handled earlier. But if you would like to set different colors for the window border and the taskbar, you will have to tweak your registry.
Set different colors for window border and taskbar in Windows
To do so, open regedit and navigate to the following key:
HKEY_CURRENT_USER\Software\Microsoft\Windows\DWM
Here in the right pane, double-click on EnableWindowColorization and changes its value to 0 from the default 1.
Next, open Task Manager and navigate to Windows Processes > Desktop Window Manager.
Press the End task button, select the Abandon unsaved data and shut down button, and then on Shut down.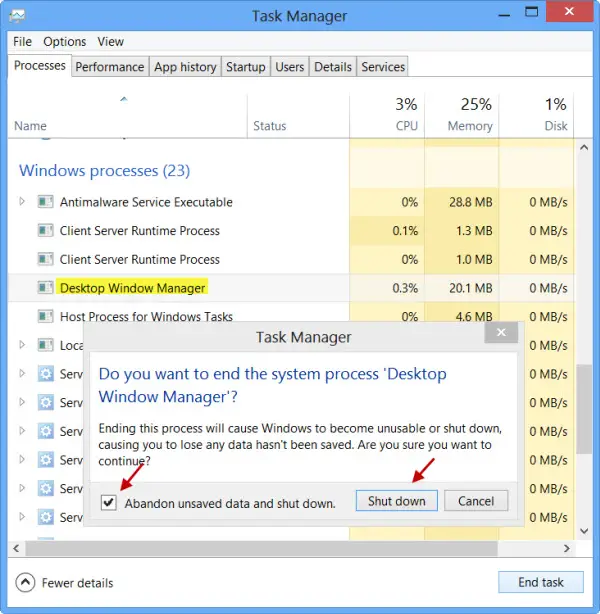 Your desktop process (and not your PC) will restart, and you will now see the change.
Random read: Remove Look For An App In The Store option from Choose Default Program menu.
The window in the background will have a light grey background, and the window in the foreground will have a white border – whereas your taskbar will continue to have the set color – which is blue in my case.
It will work all fine, as long as you do not change the color of your window.
If you change your window color, you will lose this customization, and you will have to do this all over again.
How to change Windows Colors to Dark or Black?
Open Settings (Win + I) and navigate to Personalization > Colors. Change the Mode from Light to Dark. It will enable the dark mode or night mode. Everything on Windows will look Dark or Black. If you want, you can also set up custom mode where it's not Dark or Light, but the colors you choose.
Read: How to disable the option to change Start Menu Background in Windows 11/10.