The Send To menu is quite useful as it lets you send files to some commonly used destinations. We have also seen how we can customize the Send To menu in Windows 8. Some users may find that their Send To Menu is blank or empty or is not working. This post will tell you how to fix these issues.
Send To Menu is blank or empty
If you find that your Send To is blank or empty. Do the following. Copy the following path in your Explorer address bar and click on the Go arrow. Remember to replace <username> with your username.
C:\Users\<username>\AppData\Roaming\Microsoft\Windows\SendTo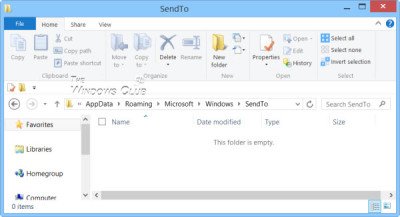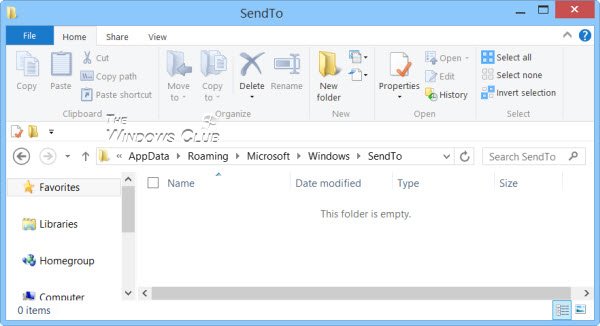 Is it empty? If so you can read this tutorial on how to add items to Send To Menu.
Send To Menu is not working
If you find that your Send To Menu freezes or is slow to open or show, you may have to open the SendTo folder (path mentioned above) and reduce the number of items in that folder.
If your Send To Menu just does not show or work at all, then maybe your registry settings and/or system files may have been corrupted. Maybe the following registry key value has become corrupted:
HKEY_CLASSES_ROOT\AllFilesystemObjects\shellex\ContextMenuHandlers\SendTo
I suggest you create a system restore point first and then do the following:
Run system file checker and reboot your computer after the scan is completed. It will replace corrupted system files, if any are found.
I have exported the default registry key from my Windows and uploaded it here. Download and apply this registry fix to your system. After you have downloaded the zip file, extract its contents using any free compression tool. Click on the .reg file and add its entries to your registry.
Hope something helps.