Sending large files to business associates, families, and even friends can at times be a huge problem because not every service supports the sharing of files under 10GB, and that can be a problem for some. The issue is, then, what are the best ways to get this done when all things are considered? Well, the web is filled with apps for such purposes, but today, we're more inclined to focus on a free Windows tool known as Send Anywhere.
What we have here is an app designed for sending files at any size across multiple platforms. By using Send Anywhere, any user of the Windows desktop platform can send files to folks using Android, iOS, Amazon Kindle, Mac, Linux, and others using Windows PC. There's even an add-in for Outlook and Office Outlook 365, so wherever you spend most of your time, Send Anywhere readily available to tango.
It should be noted that Send Anywhere free version supports a maximum file size of 10GB. If you're looking to send more, then the free version is not the tool you should be looking at right now.
Share or transfer files from PC to Phone
The first step is to download the tool, install it, then prepare to send your file to anyone you want. Make sure they have Send Anywhere installed on their systems as well, for only then will you gain the mighty power to send files. We will take a look at the following functions:
Send Files
Receive Files
Settings.
1] Send Files
To send files to anyone, simply fire up the tool and click on the red plus sign button. Alternatively, you could drag and drop the files in the available space. Once that is done, copy the special numeric code and send it to the receiving party.
If that's not your thing, then copy the unique link for them to use. Bear in mind that the numerical code expires in 10 minutes, while the regular shareable link expires in 48-hours, so keep that in mind before moving forward.
2] Receive Files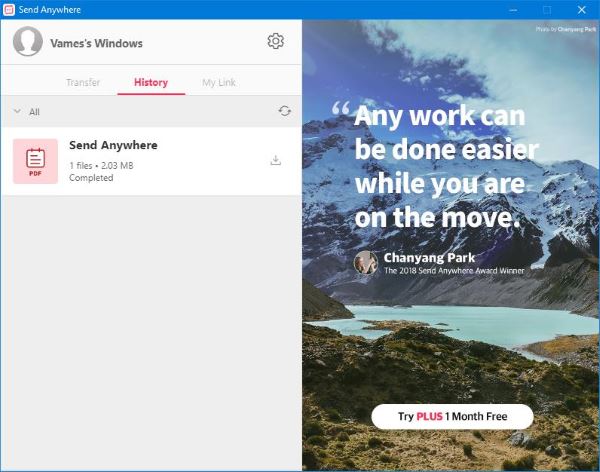 Receiving a file is easy. Simply copy the code given to you by the sender who is also using Send Anywhere, then paste it in the Receive box. Now, hit the Enter button and follow the instructions from there.
3] Settings
When it comes down to Settings, just enter it by clicking on the gear icon. Here, users will come across several options for improving the tool. For example, it's possible to get an alert for new transfers, share files from the right-click menu.
Additionally, this is where users can sign up to the service in order to keep track of files sent to third parties. Furthermore, we like the Smart Transfer feature as it makes sure the download keeps going at a reasonable speed if the server is running slow due to heavy traffic.
Send Anywhere for PC download
Basically, it uses P2P transmission in addition to the server to keep the speed relatively fast. Download Send Anywhere right now directly from the official website.