Sometimes we need to find a particular text in multiple files contained in a folder. Alternatively, let's assume that you have made a spelling mistake in more than one files and now want to replace this error with the correct word. If you have one or two files, it will not take more than a minute to replace all the words. However, suppose, you have fifty files where you need to make the same change. At such moment, you will have to spend much time to edit all the files one by one. To solve this problem here is a tool called FAR – Find and Replace that will let you search for and replace text in multiple files at once.
Search and Replace text in multiple files at once
Like said before, you can utilize this tool to search and replace a particular word in more than one files at once. It does not matter whether the file is having .php or .txt format, you can certainly make the desired change by making use of this simple tool. However, you have to extract the archived folder since it will not be working with .zip or .rar file.
To start working with this tool, first, download it to your computer. There is no need to install it since this is a portable tool. However, you must have Java 1.6 or later version installed on your PC to run this application. After opening FAR, you will see this interface: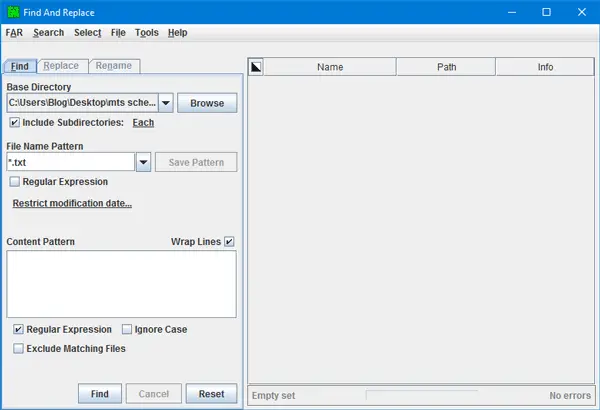 The Find option will be enabled. After conducting a search, you can use Replace and Rename tabs.
The Find tab will let you find a particular word in multiple files at once. To use this option, click the Browse button to select the folder. Following that, select Include Subdirectories if you want to search for the same word in sub-folders as well. Now, select the file extension. You can either choose one extension or multiple. To select multiple extensions, use this format:
*.html, *.css, *.php
You may not find the desired extension all the times in the list or drop-down menu. At such times, you can write down the extension on your own. Next, enter the text that you want to find. If you want to find multiple texts, write them down one in each line. At last, hit the Find button.
If you want to replace the word with something else, head over to the Replace tab. At first, write the word in the "Find" section that is already existed in your files. Following that, enter the word in the "Replace With" box that you want to show in the place of the old word. Finally, hit the Replace button.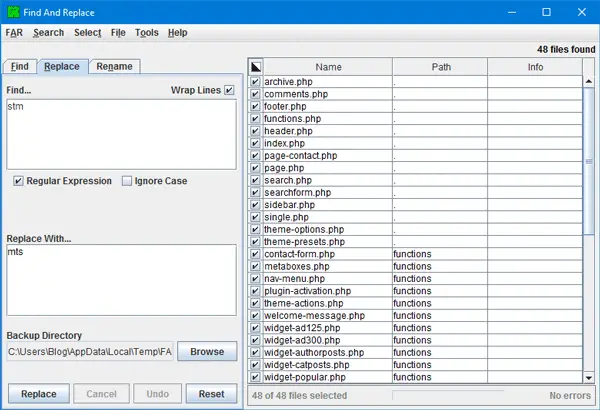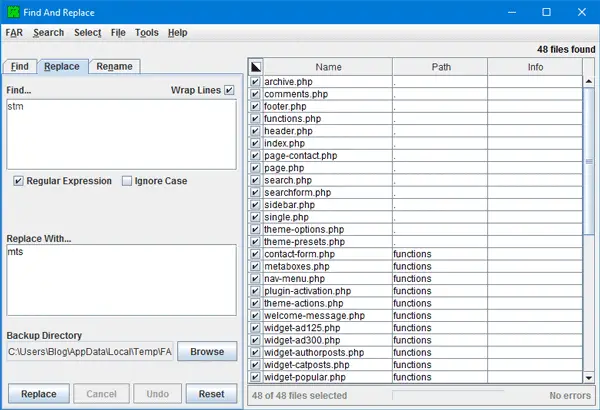 The Rename tab helps users to rename files according to your search result.
Talking about other features of FAR software, you will see these options in your right-click context menu.
Edit
View
Preview
Info
Open File
Open Directory
Rename
Copy
Tree Copy
Move
Delete
In case you often need to search for a particular word in particular files, you can save the file format in the Find tab. By doing do, you do not have to write down the file format all the times whenever you need to search for something. To do so, go to Find tab, write download the file extension in the File Name Pattern and hit the Save Pattern button. After that, you can find the saved file extension in the drop-down menu.
FAR software free download
If you like, you can download it from here.
You can also check out other similar freeware called ContextReplace and Find and Replace.