If you are a Screenplay Writer then don't just show your class on a regular Text-editor, instead get one of these free Script Writing Software for Windows 11/10 computer. Screenplay Writing Software is different than normal Text-editor as they have exclusive tools to help you in curating your thoughts perfectly.
Screenplay Writing software for Windows 11/10
These are some of the best free Script Writing Software for Windows 11/10
Trelby
Fade In
Causality
Page2Stage
Kit Scenarist
Let us talk about them in detail.
1] Trelby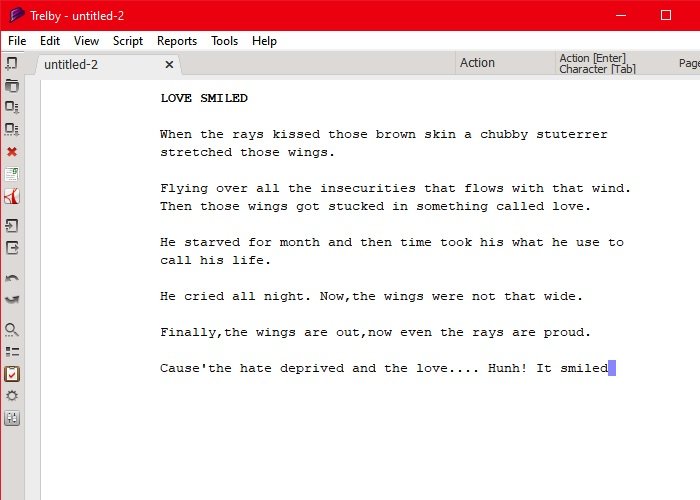 Let us start with one of the simplest Screenplay Writing Software on our list. Trelby is an efficient software as it is light, fast, and has all the essential features. It is a two-in-one solution as it can be a normal Text-editor when needed and Screenplay Writing Software when needed.
You can open your old scripts with this software with a feature called "Import a text script" and then you can edit using Trelby's plethora of features. It supports a lot of different formats such as Adobe Story, Formatted Text, PDF, etc. You can download Trelby from here.
2] Fade In
Fade In is a cross-platform Screenplay Writing Software that is available on Windows, Mac, Linux, iOS, and Android. It has a simple UI and all the required tools that can help you in writing a perfect Screenplay.
One of its most attractive features is "Autocomplete Typing". This basically keeps track of the characters, words, etc you are writing and whenever you are writing something that you have already written, its algorithm will autocomplete your sentence. Therefore, if you want something productive, go for Fade In.
It supports an array of different platforms such as XML, Final Draft, PDF, etc. If you are interested in this software, download it for free from its official website.
3] Causality
It is probably the most fun Screenplay Writing Software on our list. It may not have the simplest of UIs but it allows you to have a visual overview of your story to twitch your creative bones.
One of its most interesting features, The Story Logic, allows you to divide your stories into small blocks so that you can manage all the transitions perfectly. It has all the required bells and whistles and is a perfect free Screenwriting tool.
One of the things you need to keep in mind that, Causality is not a conventional Screenwriting software, therefore, if you just want to write and don't want to do anything different then it is not the best option for you.
You can download Causality from its official website.
4] Page2Stage
If you don't want your Screenwriting Software to have many bells and whistles but want a clean slate to write your thoughts then Page2Stage is the one for you. It doesn't have a very up-to-date UI but what it does have is support for over 30 languages.
Talking about languages, Page2Stage also has a built-in Local Dictionary to help you with some difficult words.
Autoformatting a feature in Page2Stage that will reformat your text as you edit your text. It is useful if you want to complete your script as soon as possible.
Another feature of Page2Sage, Script Analysis, creates 7 different reports depending on your script and its character. You can download Page2Stage from page2stage.com.
Related: Free Cloud-based Script writing Online Tools
5] Kit Scenarist
Last but definitely not least, we have a versatile Screenwriting Software, Kit Scenarist. It has a large base of authors and developers who introduce new features every now and then.
It is the complete package for a Screenwriter and can be helpful to you as well. It has an array of different features, that can make the experience flawless. Therefore, if you want a complete Screenwriting tool, download Kit Scenarist from here.
Hopefully, we have helped you in finding the best Screenwriting Software for Windows 11/10.
According to Annie Proulx, "Reading the finest teacher of how to write". So, let's read today's style, with the help of some Audiobook players.
Read: yWriter Script Writing software organizes your work into Chapters and Scenes.