The Scientific and Technical Documentation Utility or STDU Explorer is a file manager that provides a superior preview and thumbnail options as compared to Windows Explorer. This application helps you quickly view and find books or image files.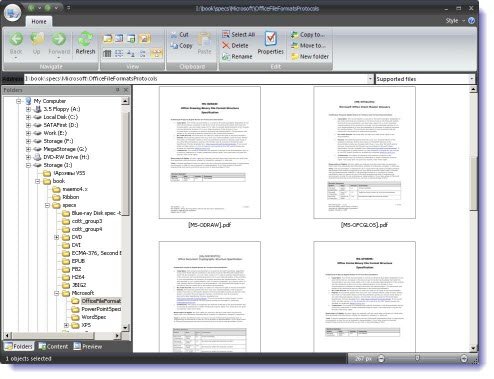 STDU Explorer for Windows PC
The program supports image file formats like .psd, .bmp, .png, .gif, .jpg, and .wmf; and also .pdf files, DjVu books, .
STDU Explorer supports standard operations such as moving, copying, pasting, renaming, deleting, etc. But its possibilities are much wider:
Extended representation of files list, with adjustable thumbnail size.
Fast preview any page of multipage documents.
Fast access to a tree of bookmarks in PDF, XPS or DjVu files.
These features make STDU Explorer one of the best software for work with images and documents.
STDU Viewer for Windows PC
You might also want to check out STDU Viewer, which is a free viewer for multiple file formats. The goal of this software is to replace multiple document viewers with a single simple application.
STDU Viewer supports TIFF, PDF, DjVu, XPS, JBIG2 document formats. These are the most popular formats for scientific and technical documentation. It also supports TXT, TCR, Comic Book Archive (CBR or CBZ) and image (BMP, JPEG, GIF, PNG, WMF, EMF, PSD) file.