If you are a lover of real-time strategy video games, then chances are you must have heard of Rise of Nations, a game that was released a long time ago by Big Huge Games for Windows and published by Microsoft. Now, we expect that you will attempt to play this on Windows 10, and that is where problems may arise.
We understand that several users have been complaining about Rise of Nations failing to work properly on Microsoft newest operating system. Apparently, when launched via Steam, the game works with no problems, but as time goes by, it flutters out.
It's not easy to tell what is the cause of the issue, but we've got some ideas of how to solve the problem manually, so if you were expecting an auto fix, well, you're out of luck. Simply follow our lead, and things should turn out just fine in the end.
Rise of Nations doesn't start or work
If Rise of Nations won't run on Windows 10, then our following suggestions will help you:
Launch DXSETUP.exe and run Visual C
Play the game in compatibility mode
Play in borderless window
Check GPU driver or reinstall the game.
Let us see this in more details.
1] Launch DXSETUP.exe and run Visual C
The first thing to do here is to run DXSETUP.exe by navigating to the Rise of Nations installation folder. For us, its located at c:\program files (x86)\steam\steamapps\common\rise of nations, but the location might not be the same for everyone.
After that, we want you to navigate directly to _CommonRedist folder > Direct X > Jun 2010 folder. From here, click on DXSETUP.exe to run the tool, and sit back and wait for it to complete. Finally, for this workaround, you must travel to _CommonRedist > vcredist > 2012 and be sure to install both files.
Once the task is over, launch Rise of Nations again to see if the game is running as intended. It should be, but if not, then follow the next step.
2] Play the game in compatibility mode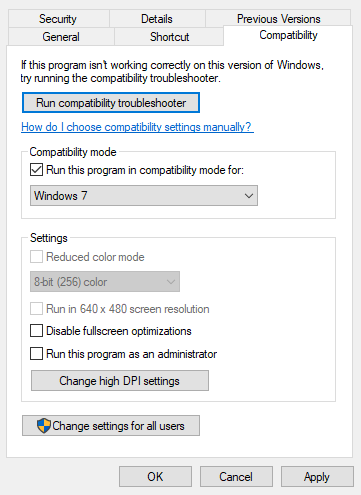 Since this is an old game, the reason it might not be playing well on Windows 10 could e due to its age. With this in mind, the best option right now is to change the compatibility mode in hopes the title will launch and stay launched.
The game worked quite well on both Windows 7 and Windows 8.1, so be sure to select either of those systems when running in compatibility for the best performance.
3] Play in a borderless window
Yes, we know this is not a popular option since most PC gamers prefer to play in full screen for better immersion. However, if you are hellbent on playing Rise of Nations, then we suggest going this route to see if things settle down.
4] Check GPU drivers or reinstall the game
Maybe this problem has little to with the operating system but more about the drivers of your GPU. We believe the user should visit the official website of their GPU vendor, and download the latest drivers there. Alternatively, one could also install older drivers to see if they are more compatible with the game.
Finally, if all else fails, then reinstalling the game may be the only option left, to be honest, unless you want to try and verify the game files if you're using Steam. To get this done, open Steam, right-click on Rise of Nations, and then, open Properties. From there, go to Local Files, then click on Verify integrity of game files.
Let us know if anything here helped you.