Windows 8.1 offers several new navigation experiences & new feature. We have already seen how you can Boot directly to Desktop or Show the All Apps View. Apart from this, it also allows you to return to Desktop after closing all Windows 8.1 Apps.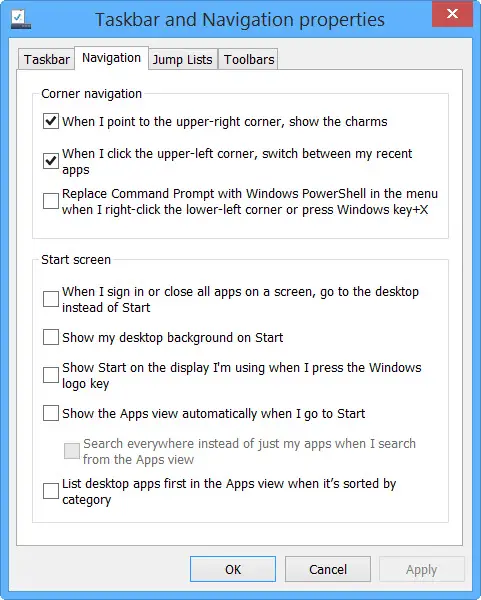 Return to Desktop after closing all Windows 8.1 Apps
To set this option, go to the desktop and right-click on the Task Manager. Select Properties to open the Taskbar and Navigation properties.
Under the  Navigation tab, in the Start Screen section, select the option When I sign in or close all apps on a screen, go to the desktop instead of Start.
Click on Apply and Exit.
Now when you start Windows 8.1 or sign in or close all the Windows Store apps on your screen, you will be taken to your desktop instead of the Start Screen.
There are also other options available here that let you:
Show start on the display I'm using when I press the Windows logo key
List desktop apps first in the Apps view when it's sorted by category.
Hope you enjoy the new Windows 8.1 navigation experiences. Except for the start button, which I consider to be a placebo, it sure is a good jump over Windows  8.