The File Explorer allows users to group the files by Date, File size, Type, Size, or None. However, now, Windows 11/10 users have reported that their files in Downloads folder are grouped by Date modified, and they have been unable to restore it to the previous/default display view. This can happen due to a bug or if the user preference was set to default after Windows Update.
Windows Downloads folder – Remove Grouping & Sorting by Date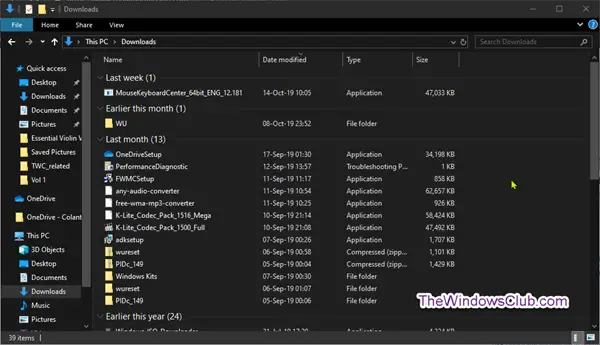 This view makes it so that all the files are grouped by date and appear in descending order.
Files in Downloads folder are grouped by date? Remove it
When grouped by date, all the files and folders are separated into user-friendly dates. For example, if you downloaded a file today, it will be grouped under the Today section. Files downloaded last week will be grouped under Last Week, and so on. Simply put, your most recent files will always appear on top.
In theory, this makes it easy to find the recently downloaded files. However, the Date Modified grouping makes the files appear more cluttered. Moreover, finding files can be a bit harder if they are not recently downloaded. For example, when files are grouped by date, even though the files are sorted by types, they are still grouped by dates.
So, if the new default, Date Modified grouping is more of an inconvenience for you, then follow the below steps to fix files in the downloads folder grouped by date in file explorer.
Restore Display view for files grouped by Date Modified in the Downloads folder
Launch File Explorer and go to the Downloads folder. You can click on the Downloads option under Quick Access to do this.
Click the View tab, then click on the Group by drop-down menu and select None from the list.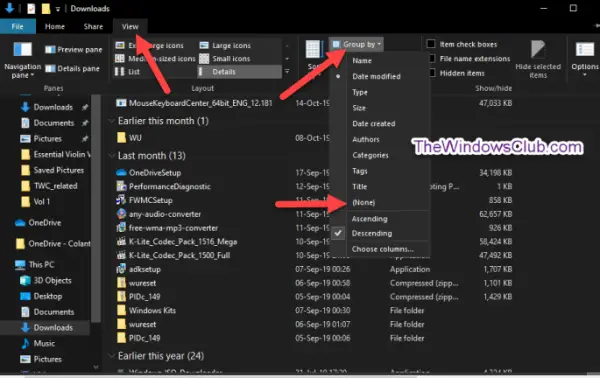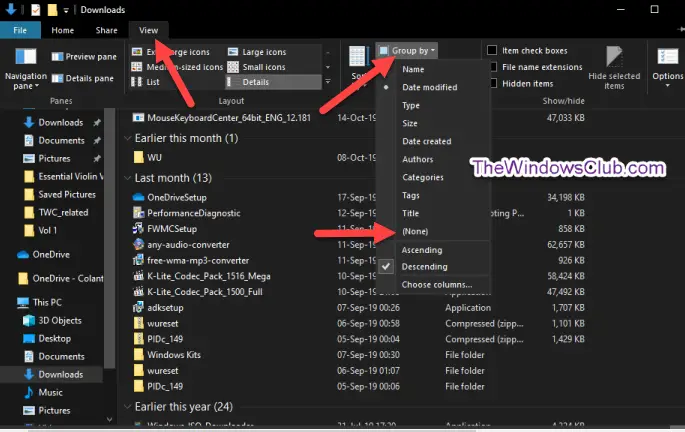 The files will be restored to whatever view the Downloads folder is set to.
Now, you might also notice the Save As dialogue window still keeps displaying the items grouped by date. Simply right-click any empty area within the dialog box and select Group by None.
Once you have applied the changes, all files are not sorted and become as before. But the files and folders will be categorized by dates modified again minutes later or on restart of PC. So to set it permanently, proceed as outlined below.
Next, switch to Group (None) as described above.
Click on View in Explorer ribbon > Options > Change folder and search options to bring up the Folder Options properties.
Switch to the View tab.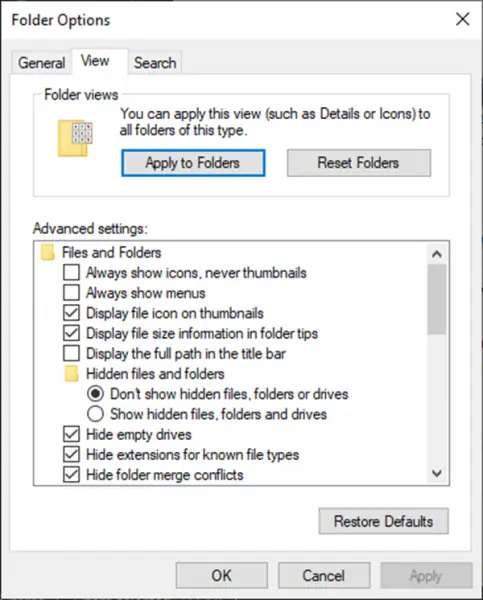 Click Apply to Folders button, followed by Yes.
Click Apply > OK.
Do note that you should make the Group Sort by changes via Explorer Ribbon only and not via Context Menu.
That's it, folks. This should help.
Related read: Windows forgets Folder View settings.