Resident Evil Village is one of the most popular games, it has been loved by many and some were on the fence about it. However, a ton of users have complained that Resident Evil Village is crashing on launch on their computer. In this article, we have written all the possible solutions and reasons leading Resident Evil Village to crash on Windows PC.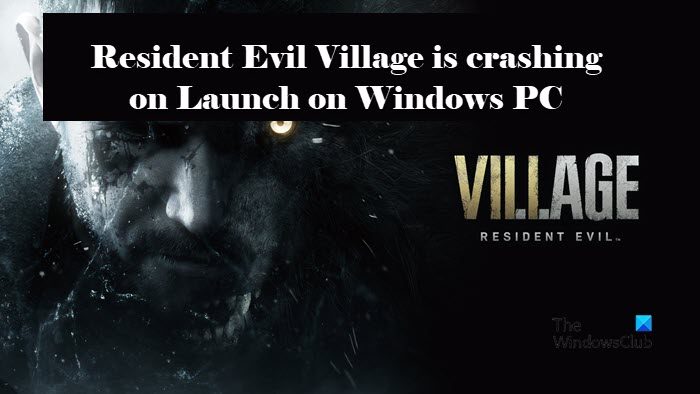 Why is Resident Evil village crashing?
The most probable reason behind your game crashing on launching would be your device not meeting system requirements. So, you should check the system requirements before downloading and installing a game. Meeting the system requirement is also not enough in some cases, if your computer is barely meeting the requirement, then there are some settings you need to configure and some things you need to do to make the game work.
The issue can also happen due to some missing or corrupted game files. You can rectify those files from the launcher itself. Other than that, some usual reasons include outdated graphics drivers, apps running in the background, etc.
Fix Resident Evil Village keeps crashing on launch on Windows PC
Here are the fixes that you can execute if Resident Evil Village is crashing on launch on Windows 11/10 PC.
Update your Graphics Driver
Disable Steam Overlay
Run Steam as administrator
Verify game integrity
Close background apps
Install the latest patch
Reinstall Resident Evil Village and Steams
Beginning with the first fix on the list.
1] Update your Graphics Driver
Not updating your Graphics driver occasionally is the root cause for most games to have stuttering or crashing issues. Also, it is detrimental to gaming performance. Therefore, it's better to update your Graphics driver once in a while. So, go ahead and update your Graphics Drivers and check if the issue.
2] Disable Steam Overlay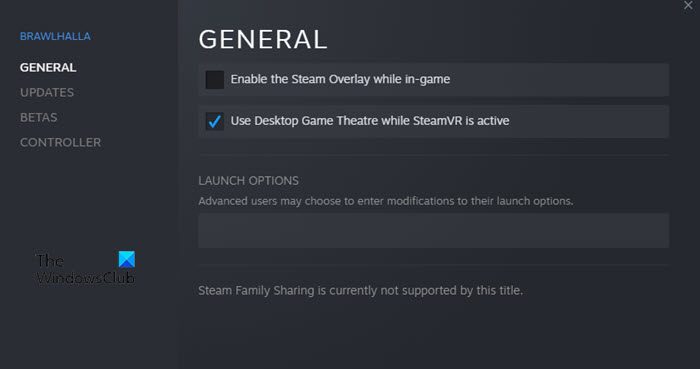 Steam has Overlays to integrate features while playing the game, conversely, it creates crashing issues and gets in the way of smooth performance. So, try disabling Steam Overlay would minimize this issue. Follow the given steps to do the same.
Open Steam.
Go to Library, right-click on Resident Evil Village and then click on Properties.
Under the General section, untick Enable the Steam Overlay while in-game box.
Relaunch the game and see whether the issue still persists or not. Hopefully, the issue would have been resolved but if it didn't then check the next fix.
3] Run Steam as an administrator
Sometimes, the issue can occur because of lack of privileges, running Steam as an administrator is one of the effective fixes to fix the Resident Evil Village crashing on Launch. Here's how to do it.
Click on the Win key, type Steam, right-click on it. Or, right-click on Steam from the Desktop
Now click on Run as administrator.
Click Yes when UAC prompts ask for permission.
Launch the game to see if Resident Evil Village is still crashing on Launch or not. If it is then move on to the next fix.
Related: Resident Evil Village not launching or opening.
4] Verify game integrity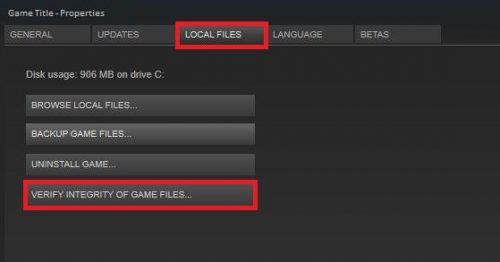 Steams can check the integrity of the game files to see whether it's corrupted or some of their files are missing. Administering this has some basic procedures.
Open Steam.
Go to Library, right-click on Resident Evil Village.
Navigate to Properties. Now click on the Local Files tab.
Click on Verify integrity of game files.
Steams will verify the files and then automatically replace the corrupted or missing files. This procedure may take time. After it's done, relaunch the game to check the performance of the game.
5] Close background apps
Apps running in the background along with the game take CPU memory, forcing the game to crash. Sometimes, it also arises stability issues so it is recommended to close all the running apps in the background for smooth gameplay. Follow the given steps
Hit Ctrl+Shift+Ecs to open Task Manager.
Navigate to the Process Tab.
Right-click on all the running apps and then click on Disable option.
Restart your device and launch Resident Evil Village, fiber cross it wouldn't crash on launching.
6] Install the latest Patch
If none of the above fixes work for you then try installing the latest patch as the bug most likely is integrated on the previous patch. And due to this, your game is having crashing issues. So, install the latest patch, relaunch the game and see if it fixes the issue or the game is still crashing.
7] Reinstall Resident Evil Village and Steam
Last but not least, uninstall Resident Evil Village and Steam if installing the latest patch doesn't work its magic on crashing issues. Now reinstall both, and see if this solves the problem or not.
It would be better to say that you won't have any complaints regarding this issue.
System requirements for Resident Evil Village
You need to make sure that your computer meets the following requirements to play the game (at least the Minimum requirement).
Minimum
CPU: Intel Core i5-7500 or AMD Ryzen 3 1200
RAM: 8 GB
OS: Windows 10 64-bit
VIDEO CARD: NVIDIA GeForce GTX 1050 Ti or AMD Radeon RX 560
DEDICATED VIDEO RAM: 4096 MB
Recommended
CPU: Intel Core i7-8700 or AMD Ryzen 5 3600
RAM: 16 GB
OS: Windows 10 64-bit
VIDEO CARD: NVIDIA GeForce GTX 1070 or AMD Radeon RX 5700
DEDICATED VIDEO RAM: 8192 MB
Hopefully, you are able to fix the issue with the help of the solutions mentioned above.
Read Next: Fix Resident Evil 2 crashing or showing Black Screen on Windows PC.