You can get various errors when browsing the internet, and most of them boil down to challenges in your internet connection. Sometimes, when you attempt to open a webpage, your browser throws the following error message:
The requested URL could not be retrieved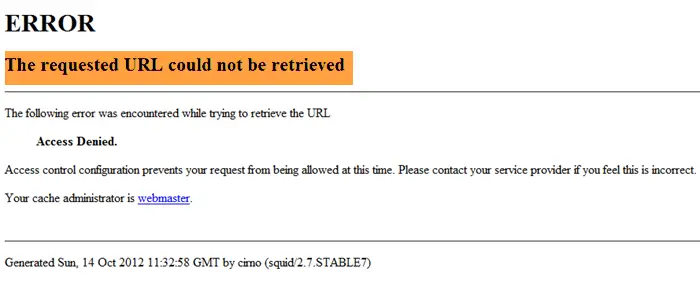 With this error message, no website will open on the browser. If you're presently facing this error message, you're at the right place because this short guide will show you the best ways to get rid of the error.
The requested URL could not be retrieved
In troubleshooting the error message, we'll employ the methods that follow; but before that hard refresh the webpage using Ctrl+F5 keys and see if that helps.
Restart your router or modem.
Temporarily disable your antivirus.
Temporarily disable Windows Firewall.
Disable proxy connections.
Renew the IP connection in Command Prompt.
Not sure about how to proceed with the above solutions? Read the sections below as I walk you through the step-by-step guide for the issue.
1] Restart your router or modem
To begin, the first thing you should do is restart your internet model or router.
Restarting your connection fixes this issue because the error may be caused by bugs or glitches in your modem or router. A simple restart will flush these errors and get your connection back up and running.
2] Temporarily disable your antivirus
Your antivirus is crucial software for your computer's security. But it's software and will probably get a few things wrong. For instance, it may get a false positive and block your internet connection.
To checkmate this issue and be sure your antivirus doesn't cause it, you can disable it temporarily and see if the connection goes through.
If disabling your antivirus solves the error message, you may need to check your antivirus settings. Alternatively, if this solution doesn't work, re-activate the antivirus and move on to the next fix.
3] Temporarily disable Windows Firewall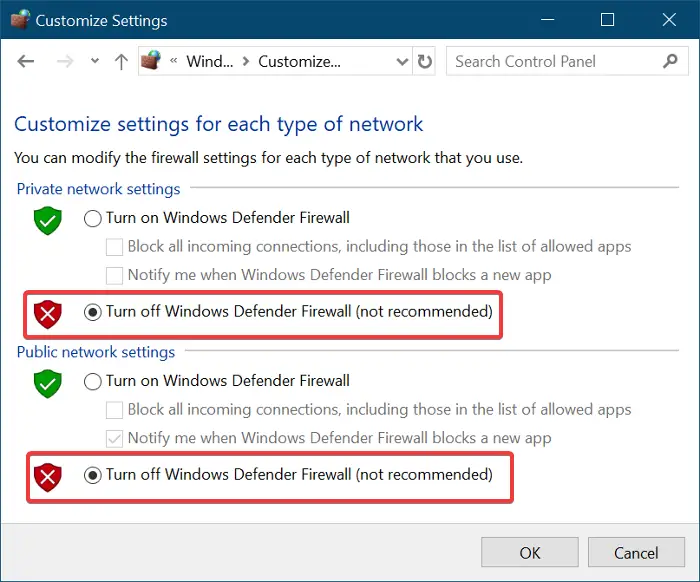 In the same way your antivirus can interfere with your internet connection, so can Windows Firewall. I'll show you how to disable it temporarily to see if that solves the problem.
First, press the Windows key and search for Firewall. Click on Windows Defender Firewall from the search list to open it. Select the option on the left-hand pane that says Turn Windows Defender Firewall on or off.
On the next screen, choose the Turn off Windows Defender Firewall (not recommended) option. Do this for both Private and Public network settings. Click on the Ok button to save the setting.
With your Firewall deactivated, try to recreate the error again. Remember to enable the Windows Defender Firewall after troubleshooting the problem.
4] Disable proxy connections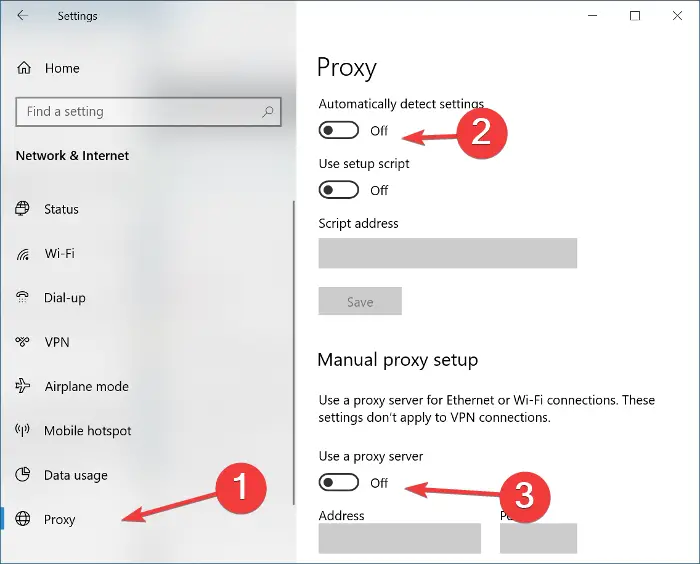 Press the Windows key + I combination to launch Windows Settings. Here, go to Network & Internet and click on Proxy on the left-hand pane.
Toggle off the switch next to the Automatically detect settings option and scroll down to Manual proxy setup. Here, disable the Use a proxy server option.
Finally, close the Settings window and reboot your computer.
Firefox users may additionally open Tools > Options > Advanced > Network : Connection > Settings and select No proxy.
5] Renew the IP connection in Command Prompt
Press the Windows + X key combination and select Command Prompt (Admin). We're now going to run the following commands in Command Prompt. Ensure to hit the ENTER key after each line of command:
ipconfig /release
ipconfig /renew
The above commands will assign you a new IP address and resolve the connection problem you're experiencing.
If nothing helps, try using another browser and see – or else refresh your current browser and then try again.
If you continue to receive this error, it could be because the Host or Server may have been configured wrongly or that access has been intentionally denied to you. In this case, use a VPN and see if that helps.