If you do not want to show previously used desktop backgrounds in Personalization, or want to delete last used wallpapers, here is how you can remove Wallpaper History in Windows 11/10.
Remove Wallpaper History in Windows 11/10
By default, Windows Settings Panel shows a total of five wallpapers if you open the Personalization > Background window. It includes four previously used wallpapers and the current one.
In Windows 11 you will see them here:
In Windows 10 you will see them here: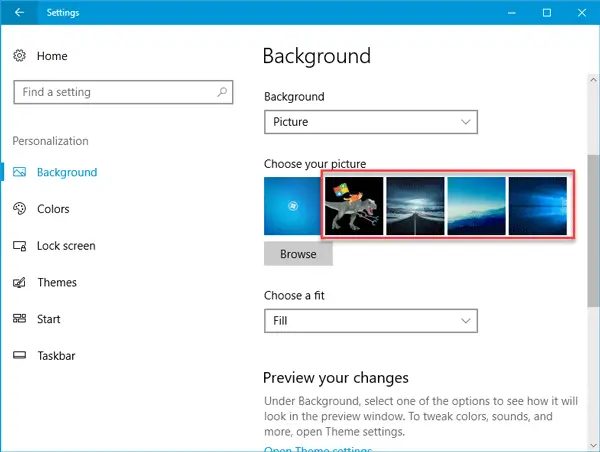 Whenever you change the wallpaper, the last one gets removed from that list. Now, if you want to get back all the default wallpapers in that location to change the desktop background quickly, here is a simple trick.
You need to use Windows Registry Editor. Before using it, make sure you have created a registry backup or a system restore point. In case, anything goes wrong, you can always restore it.
To get started, open Registry Editor. For that, press Win + I, type regedit and hit the Enter button. Alternatively, you can search for regedit in the taskbar search box and click on the result.
After opening the Registry Editor, navigate to the following path-
HKEY_CURRENT_USER\Software\Microsoft\Windows\CurrentVersion\Explorer\Wallpapers
After opening Wallpaper , you will find four different values named:
BackgroundHistoryPath1
BackgroundHistoryPath2
BackgroundHistoryPath3
BackgroundHistoryPath4
on your right-hand side. These are the four previously used wallpapers in that last.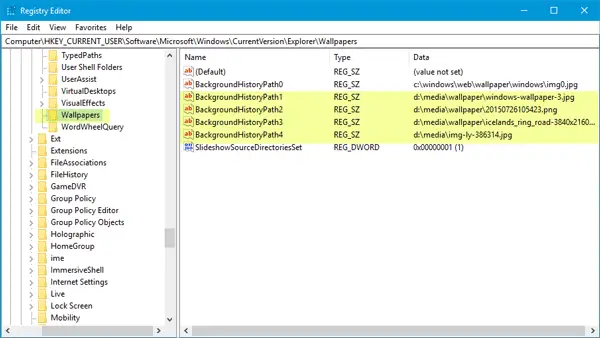 You need to right-click on them and delete them one by one.
Let's assume that you want to delete the 1st and 4th wallpapers. In that case, delete BackgroundHistoryPath1 and BackgroundHistoryPath4.
Whenever you delete an existing wallpaper, it gets replaced by default Windows wallpaper.
Hope this works for you.
Read next: Where are the Wallpapers and Lock Screen images stored in Windows 11/10?