Google Drive irrefutably is one of the most widely known cloud storage services. It allows the users to conveniently upload and store their documents, images, videos, archives, and other files directly on the cloud. That is not all, integration of Google's web-based office suite has made it much easier to create, edit, and share documents across innumerable devices and networks. But have you ever thought how many duplicate files have been cluttering your space on Google Drive?
Earlier, finding duplicates on a Cloud-based service like Google Drive was tough. Also, Google Drive does not incorporate any options to search for duplicate files. In such circumstances, users are left with just 2 options – one download all the files and scan them with a duplicate finder, second manual comparison. But, not anymore, this guide will cover how to find and remove duplicate files in Google Drive.
How to remove duplicate files in Google Drive
Duplicated files can clog quite a bit of your Google Drive storage space, this guide will cover how to spot and remove duplicate files in Google Drive. Also, how Google deals with the problem of duplicate files. By removing duplicates, you can free up a lot of space and at the same time get your files more organized.
How does Google handle duplicate files?
Google Drive does have few measures to prevent unnecessary duplicate files from showing on your Drive space. Earlier, if you tried to upload a duplicate file to your Google Drive, the file would be uploaded and got extensions to its original name like this File (1), File (2), File (3) and so on. This created a lot of confusion and made it very tough to organize the files.
But now Google warns you about duplicate file uploads. Whenever a file is uploaded to Google Drive, and if there is a file with a similar name and the same format on your Google Drive, you instantly get a Duplicate file upload warning message like shown below: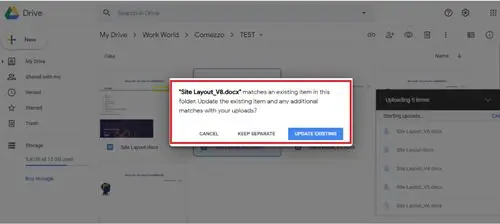 The user can skip copying the duplicate file in Google Drive by clicking on the option 'Cancel'. If the user clicks on the option 'Keep separate', the file will be uploaded with a filename like File (1). The 'Update Existing' option replaces the old file with the new one.
Currently, Google Drive can identify duplicate files based on the file format and filename. They do not consider the content. Earlier we also indicated Google's web-based office suite integration, hence, when it comes to multiple copies of the same MS office document or excel spreadsheet, Google Drive merges and keeps the latest uploaded versions (older versions are available for viewing and restoration). In the end, the warning message from Google is a great way of keeping duplicate files away from blocking valuable space on your Google Drive; again, if used attentively.
Use Duplicate Cleaner
You can use Duplicate Cleaner software to remove the duplicate files on Google Drive.
Duplicate Cleaner by DigitalVolcano Software is one of the leading programs used for finding and removing duplicate files on your Windows PC or network drives. Documents, pictures, music, and much more, this application finds it all.  Duplicate Cleaner free version has a subset of features found in its pro version i.e. Duplicate Cleaner Pro.
You may ask how do the free and Pro versions compare?
The free version has basic functionalities and is mainly for personal/home use. This one is not suitable for use in a commercial environment.
In this guide, we would focus on Duplicate Cleaner's Free basic software which does the job well. Follow these steps to user Duplicate Cleaner free:
1] Download the 'Duplicate Cleaner' free version from the Microsoft Store to sync Google Drive with your PC.
2] Follow the installation wizard and complete installation.
3] From the desktop shortcut, open the application.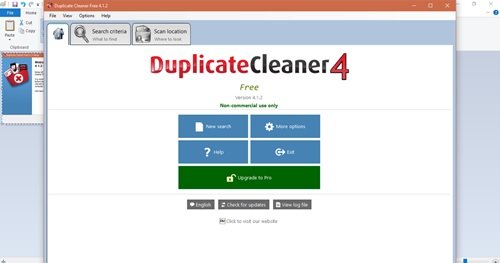 4] Click 'Scan Location'.
5] Select the 'Google Drive' folder on your PC and add it to the 'Folders to search' section.
6] Click 'Start Scan' appearing in the toolbar i.e. at the top of applications interface.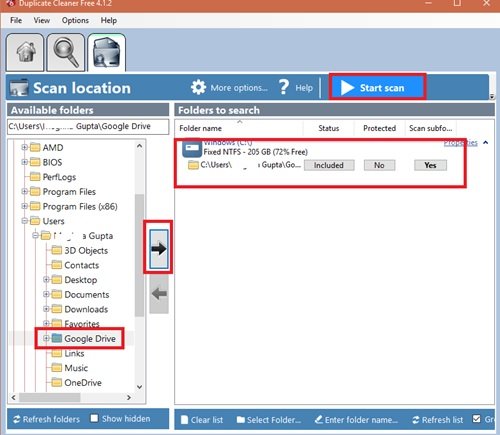 7] The app will now start performing duplicate checks.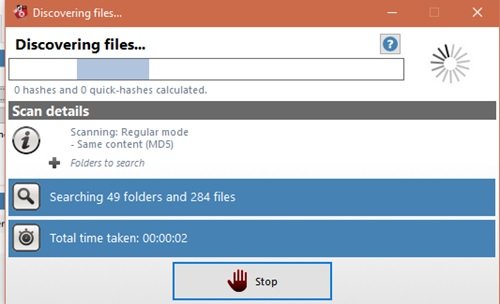 8] When the scan is completed, you will see a list of all the duplicate files on Google Drive.
9] The result of the scan is displayed in the left panel of the result window. The user can see the Select assistant tools on the right-hand panel. These tools help the users to batch mark the Google Drive duplicate files that they wish to remove. Select the files you wish to remove.
10] Finally click on the 'File removal' button to remove duplicate files in Google Drive.
11] A removal window will pop up, hit on 'Delete files' to remove all the marked duplicate files in Google Drive.
Done! Following the above steps will free up a significant amount of space from your Google Drive!
Delete junk temporary files & de-clutter Google Drive storage with GiveMeSomeSpace
Google Drive provides a minimum of 15 GB of storage, which can be upgraded to one TB.
We hope this guide helps you utilize all that space in the best possible way. If you have more tricks around organizing and cleaning up Google Drive, do share it with us in the comments section below.